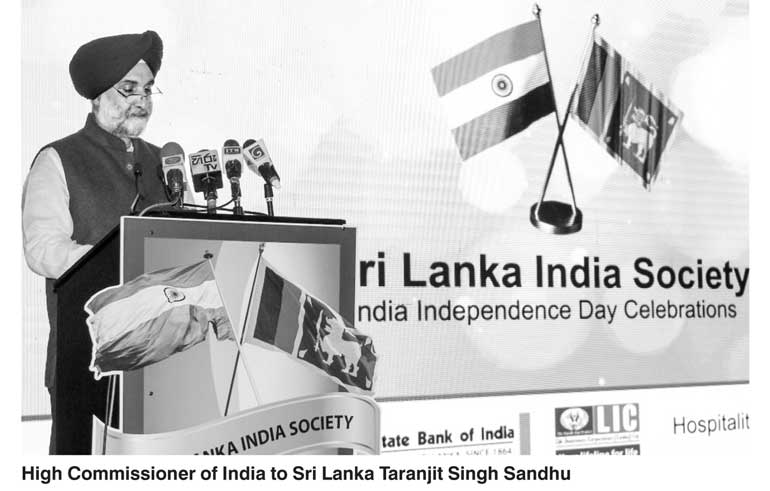 Highlighting that India has committed over $ 2.6 billion in development assistance to Sri Lanka, India's envoy to Sri Lanka has assured that India, as a true friend and neighbour, will support Sri Lanka in all areas wherever and whenever needed.

Speaking at an event held to commemorate the 70th year of Indian independence recently in Colombo, the High Commissioner of India to Sri Lanka Taranjit Singh Sandhu said India has always responded swiftly to the needs of Sri Lanka, be it drought, tsunami or floods.

"You all witnessed the swiftness with which the Indian Naval Ships along with assistance, touched Sri Lankan shores within hours of receiving the request, when Sri Lanka was hit by floods in May 2017," the envoy recalled.

Mentioning that India has committed over $ 2.6 billion in development assistance to Sri Lanka, the High Commissioner said the figure is only a reflection of the commitment Prime Minister of India Narendra Modi has towards its closest neighbour.

"We have also been trying to facilitate genuine travel to further strengthen people-to-people ties. Sri Lankan Airlines has been permitted to fly maximum flights to Indian cities. India is bringing in largest number of tourists into Sri Lanka. We have recently reformed our OCI card holder rules. We hope more and more people travel, explore and understand each other's country," Singh Sandhu said.

He said that an economic revolution is happening in India and India wants Sri Lanka to be a part of that journey as Sri Lanka is also treading the path of development.

"India of 2017 is very very different from India a decade ago. It is the young India with more than 50% under 25 years that is unleashing the forces of innovation, enterprise and growth. It is this young India, which will create the magic of 'New India', in the decades to come. We want Sri Lanka, as our closest neighbour, to be our partner in this magnificent journey!"

"As nations who uphold similar values of democracy and pluralism, and as nations who have gained independence around the same time, our dreams are similar. There is a historic opportunity at our hands, to transform these dreams, to reality. We can achieve our dreams only, if we look ahead; if we have a vision, for future. We cannot afford, to remain prisoners of the past; we need to work with passion, for the future," the High Commissioner further said.

Sri Lanka India Society held their 70th Indian Independence Day celebrations amidst a distinguished gathering of invitees at Taj Samudra on 19 August.

Minister of Special Assignments Dr. Sarath Amunugama was the Chief Guest, while the Guest of Honour was the High Commissioner for India in Sri Lanka. Suboroto Bagchi, world renowned business author and much-admired entrepreneur who co-founded Mindtree, a $500 million global IT service company with over 15,000 employees, was the keynote speaker.

President of Sri Lanka India Society T.S. Prakash welcomed the dignitaries and gave a brief overview of activities of the Society.

In his speech, Dr. Sarath Amunugama recalled the deep ties of cultural heritage shared commonly by the two countries. Dr. Amunugama highlighted the similarities between the two national anthems, and the connection with Rabindranath Tagore. He narrated many interesting anecdotes that signified the strong relationship between India and Sri Lanka.

Cultural performances added colour to the event. Ever since its inception, Sri Lanka India Society has played a stellar role in building greater harmony and unity between Sri Lankan and Indian people.