---
Says India hopes GoSL will fulfil aspirations of Tamils
Calls on Govt. to hold LG polls following enforcement of 13A
Claims SL's progress on commitments are inadequate
Urges Govt. to work meaningfully towards early implementation of commitments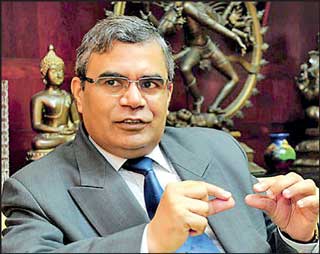 United Nations

Indra Mani Pandey
Permanent Representative of India to the United Nations Indra Mani Pandey addressing the second meeting of the 54th Regular Session of the Human Rights Council in Geneva on Monday called on the Sri Lankan Government to fulfil its commitment to the implementation of the 13th amendment to the constitution.

Pandey said India hopes the Sri Lankan Government will fulfil the aspirations of the Tamils in Sri Lanka by implementing the 13A and conducting Local Government polls to ensure a life of respect and dignity for them.

"Progress on the commitments is inadequate and we urge the Government to work meaningfully towards early implementation of its commitments to ensure fundamental and human rights of citizens are fully protected," he said.

Panday noted that India as a close friend of Sri Lanka has supported its relief, reconciliation, resettlement and reconstruction processes in Sri Lanka since 2019.

He said India has provided multi-pronged support totalling USD 4 billion to Sri Lanka to tide over its economic challenges. "India has been guided by two fundamental principles - support for the aspirations of Tamils for equality, justice, dignity and peace along with unity for the territorial integrity and sovereignty of Sri Lanka," Pandey added.