Says past investment in education by consecutive Govt.'s is unsatisfactory
Highlights the lack of a national policy on education in the country
Makes several proposals including the introduction of new subjects to suit the current job market
Calls on all parties to come together to ensure the education sector does not collapse due to the crisis
---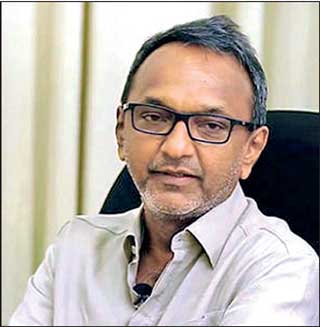 Imthiaz Bakeer Markar
---
Samagi Jana Balawegaya MP Imthiaz Bakeer Markar says Sri Lanka must increase its investment in the country's education sector. Speaking in Parliament yesterday, Bakeer Markar said the quality of education in Sri Lanka has dropped post-1950. "It is my belief that we cannot be satisfied with the matters of university rankings and the need to reform our education to suit the needs of this century and beyond," he said.
Stressing that one must set aside narrow political aims when making decisions about education, Bakeer Markar said often program and policy changes along with political change prove Sri Lanka does not have a national education policy. "It is the responsibility of all to not allow this field to be guided by such short-sighted and narrow goals," he said.

"Not only must we work with a broad aim but we must also give the highest investment to the sector. We as a society cannot be satisfied with our past investment in the education sector. All countries that have become economic successes have not only invested highly but also prioritised its education," he added.

While noting that the Ministry of Education has expressed its interest in focusing on S.T.E.A.M education, Bakeer Markar said it is important that it must be implemented allowing all students in the country from all walks of life to benefit from it. The MP highlighted the need to address the issue of teacher shortages for the relevant subjects, especially in rural areas. "This situation must be prioritised and rectified," he said.

Bakeer Markar proposed that new subjects that will equip students to face the ever-changing job market must be introduced along with suitable reforms. The MP also said it is important for rural students to be given career guidance directing them to various professional education programs provided by the Government.

Noting that students are not allowed to choose a program of their choice in local universities, Bakeer Markar said that instead they are forced to accept the university and the program they are forced into by the education authorities. "I would like to propose that this situation must be reconsidered," Bakeer Markar said, adding that given the chance, students would opt for universities that are up-to-date and possess a higher ranking.

Bakeer Markar said it is important to initiate new thinking in order to bring our universities to global standards and to also reduce the outflow of foreign exchange through students being forced to study abroad due to the lack of education opportunities in Sri Lanka.

The SJB MP in his speech also highlighted the importance of providing student counsellors to every school with students over 800 pupils given the current crisis. "We must ensure our education system does not collapse in this precarious situation," he said.