The Inter University Student Front (IUSF) yesterday charged that the appointment of UNP Leader Ranil Wickremesinghe as Prime Minister is part of a plot hatched by President Rajapaksa to safeguard the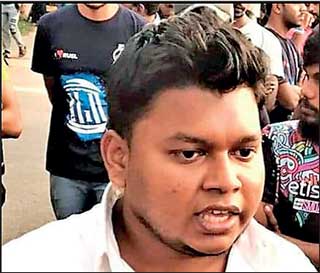 USF Convener Wasantha Mudalige
family and the stolen money.

IUSF Convener Wasantha Mudalige, speaking from the GotaGoGama protest site in Colombo said the UNP nor its leader Ranil Wickremesinghe could muster enough votes at the last election, and was completely rejected by the people. He said Wickremesinghe was forced to enter Parliament from the national list, as people grew tired of his incapacity to bring to book the perpetrators of the infamous Central Bank Bond Scam and other issues of corruption concerning the Rajapaksas.

He charged that there is a plan for five SLPP national lists MPs to resign and make way for five members of the UNP and this development is contrary to the expectations of the people and their agitation. Mudalige said protests had broken out all around the country asking for President Rajapaksa to 'go home'. He remarked that this development to appoint Ranil Wickremesinghe as Prime Minister was an effort by the President to consolidate his control over Parliament.

"We are now ready to launch 'RanilGoGama' and we will continue this effort on behalf of the people," he said.