Supports liberalization of petroleum sector
Govt. still lacks plan to grow economic activity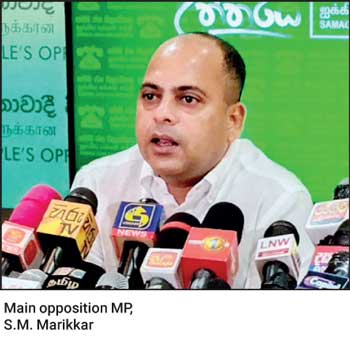 By Darshana Abayasingha

Main opposition MP, S.M. Marikkar, states it is important to restructure state enterprises, but any divestment of profitable entities must take place at a correct price. Marikkar notes that in a bankrupt economy, the sale of loss-making entities becomes particularly difficult at a reasonable value, but government must ensure that it receives the correct value for all profitable entities.

Addressing the media in Colombo yesterday, Marikkar noted Sri Lanka has over $ 80 billion in total debt, and the IMF programme is a mere rope thrown to the country, which is at the bottom of the well, but will not help pull it out.

"We cannot solve our current problems through the IMF alone, we must find solutions to our problems. The current government has not shown any workable plan to improve its revenue or grow industry and exports. Because there is no feasible plan we are burdened with such heavy taxes. The president is leading people on by dangling loans as an excuse. The IMF is placing conditions on us, because it wants to strengthen our ability to repay these loans, but we need not agree to all those conditions. Instead, we should be working on means to strengthen our methods for repayment," the MP stated.

Responding to a question on why funds from the first tranche of IMF aid is being utilized to pay dues to India and Bangladesh, Marikkar replied that this would have to be done due to the prevailing situation. He noted that had the Gotabaya Rajapakase led government gone to the IMF for aid in November 2020, Sri Lanka would not be in the miserly situation it is in today. "They didn't go and that is why we are here today. We are forced to use monies from the first installment to pay back loans to Bangladesh and India, and even service state sector salaries."

Marikkar added his party was yet to discuss the Cabinet decision to further liberalise the petroleum sector, and said he personally supported moves to open up the energy sector, stating that Sri Lanka cannot afford to continue with a beggar mentality. He stressed the need to revisit traditional processes as they have proved futile given the current situation. The government must step aside from commercial activity, and lay the groundwork for growth in industry and markets, he said.