By Nuwan Senarathna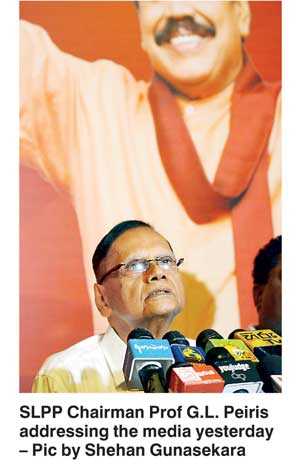 A high-level meeting between former President Mahinda Rajapaksa and Sri Lanka Freedom Party (SLFP) members representing the Sri Lanka Podujana Peramuna (SLPP) will be held today at the residence of SLPP Chairman Prof G.L. Peiris.

Forty-one MPs will participate in the meeting to discuss current social, political and economic issues, Prof. Peris said yesterday, addressing a press conference at the SLPP Headquarters.

"Key concerns of the public, which are being widely discussed at present, will be taken into consideration during this meeting. It is also an opportunity for the MPs to meet their leader and discuss matters of concern to them," he added.

Commenting on newspaper reports in relation to a meeting between President Maithripala Sirisena and former President Mahinda Rajapaksa, Peiris said that Rajapaksa had informed him that such a meeting had not taken place.

Asked if the decision to form a caretaker government would also be discussed during the meeting, Prof. Peiris said: "We will not discuss just one topic; all matters concerning the public will be taken into consideration."

He pointed out that no decisions had been taken in relation to a future meeting between President Sirisena and Rajapaksa yet.

"Former President Mahinda Rajapaksa does not take decisions by himself. He always discusses matters with the members of the Joint Opposition. He is not a person who is interested in posts because he has held all high-level posts in this county," Peiris asserted.