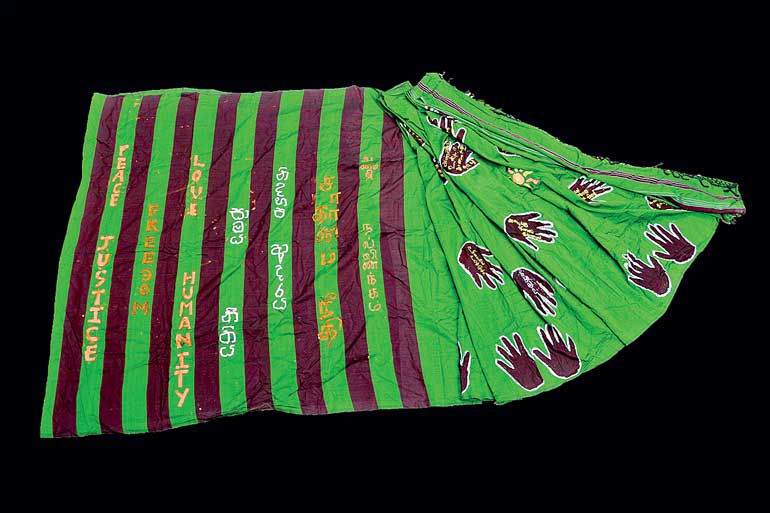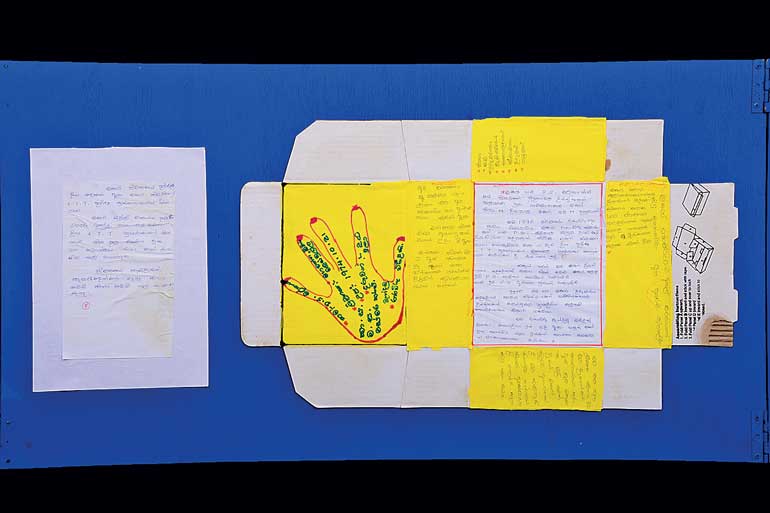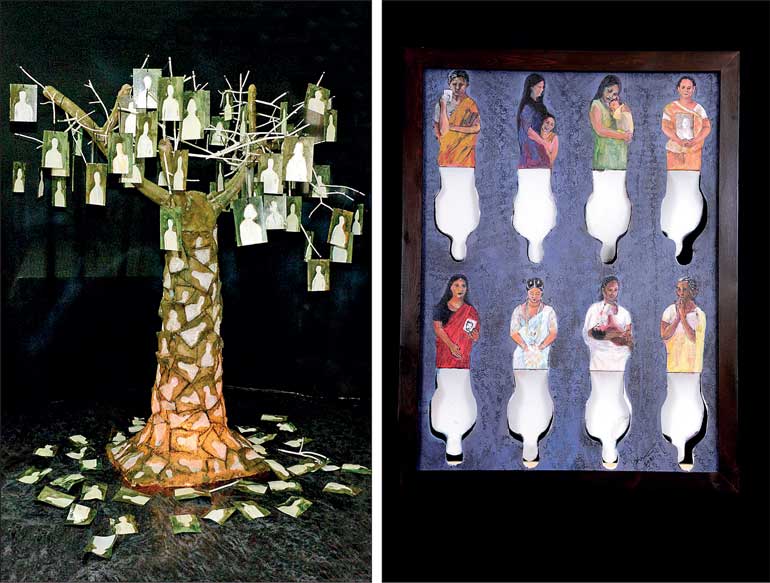 A virtual exhibition on 'memory work' by Centre for Equality and Justice
By Kamanthi Wickremasinghe

To remember is to reflect on past events that would either bring a smile to your face, or tears. Survivors of Sri Lanka's 30-year ethnic conflict are one such community that have lived with trauma for the longest period, either mourning the loss of a loved one or questioning the existence of a disappeared loved one. Besides the conflict, political insurgencies, incidents of domestic violence are other events with varying degrees of trauma.

Space for memory work in Sri Lanka needs to expand as sociologists believe that reflecting on the past will help with a person's healing process, ultimately paving the way for reconciliation within the society at large. This is why the Centre for Equality and Justice (CEJ) initiated a process to empower survivors of trauma to express their memories and emotions in the form of art.

Participants, mostly women and youth from communities that have experienced trauma were part of this process. While taking them on a reflective journey to revisit past experiences, the participants were then trained to bring their memories and emotions onto a piece of paper or canvas. "I built up on the work previously done by Radhika Hettiarachchi, Vasuki Jeyasankar and Tehani Chitty who trained them to have more self-compassion, psychosocial awareness while Kusal Gunasekara brought in the artistic perspective," opined museologist, oral historian and sociologist Hasini Haputhanthri who is curating the virtual exhibition. Her task is to exhibit the outputs in a way that the public could access it in order to understand, relate and participate in the process.

Art itself is a medium to express emotions. This is evident in featured exhibits displayed on the virtual platforms. Haputhanthri believes that revisiting these memories will help people realise their fears, losses and eventually start letting go of the traumatic past and perhaps forgive enemies. "I think when you go through a traumatic experience you may take time to release the bottled-up emotions. These emotions will block you from progress. There comes a time to revisit these memories. As per my experience working with these communities, working through creativity will help them release bottled up emotions out of their system," she added while referring to a few artworks she's currently working on.

Going by the concept of 'Your Trauma Will Never Define You', the artworks include creative ideas of participants from different parts of the country. Haputhanthri is therefore trying to find a story that has emerged from different parts of Sri Lanka and a silver lining in these artworks that connects all of them together. "These artworks are from women who have lost loved ones during the conflict to those who have lost loved ones during insurrections. But the common thread is the resilience they have shown to rebuild and move forward in their lives while dealing with the trauma. These women have been taken through a process of healing, to ultimately share their stories with the rest of society. But I must say that it takes a lot of courage to share these stories." Drawing inspiration from a poem by Nikita Gill, Haputhanthri believes that adding poetry will give more depth to the entire process. "There are poems by female Sri Lankan poets such as Vivimarie Vanderpoorten, Sumathy Sivamohan and poems from across the globe that could add spice to the creative process. Hence what I'm looking at is to create a gallery of visual and verbal expressions."

Another striking feature of this exhibition is the use of maps to link the past and present. "It was very much later that I understood how important maps are in the forming of a world view. Maps have a strong legitimacy and power to give us visual pictures. Researching and redrawing maps is an essential way of looking at our landscape, our lives and therefore it's very symbolic. There's a series of artworks by T. Sanathanan who redrew maps of his neighbourhood and how it changed. Maps therefore challenge the way you see and it presents an alternative," Haputhanthri added.

Even though 'memory work' is a fairly new concept to Sri Lanka, sociologists believe that it helps people to personalise history, calamities or tragedies. But in Sri Lanka, we often hear stories of a glorious past and stories of survivors who have had limited space in the country's memoryscape. "Therefore, we have to do a lot of work to make people aware of the importance of memory work. On the other hand, it's a contested subject."

The curated artworks are being added to the Museum of Memory and Coexistence, a virtual museum-archive space initiated by the International Centre for Ethnic Studies (ICES). Bringing a virtual exhibition together, amidst a pandemic has been a challenge in itself. The unavailability of public spaces posed a challenge as to how these exhibits could be displayed in a virtual space in order to bring about a meaningful interaction with the local and global audiences.

"My task is to take these beautiful artworks to an audience that would appreciate and empathise with people who told these stories. But in the case of a physical exhibition, it allows people to have a face-to-face experience with survivors' stories thereby developing empathy irrespective of whether the featured exhibit includes a short story, poem or any other creative work," she explained while expressing gratitude towards the participants for having the courage to share their stories.

"These people have lived with a lot of anxiety and uncertainty but they are now trying to find their own way of healing. Today we are living through a different type of conflict but 30 years ago, it was a destructive and traumatic conflict. Hence there's a lot of empathy, hope, admiration to be found and a lot of lessons to be learnt as humans by looking at these works of art. Therefore, I would like to invite the audience to approach their creativity with an open heart and empathy," Haputhanthri underscored.

Featured exhibits are displayed on the Museum of Memory and Coexistence www.momac.lk for the local audience and on the World Art and Memory Museum www.wammuseum.org for the global audience.