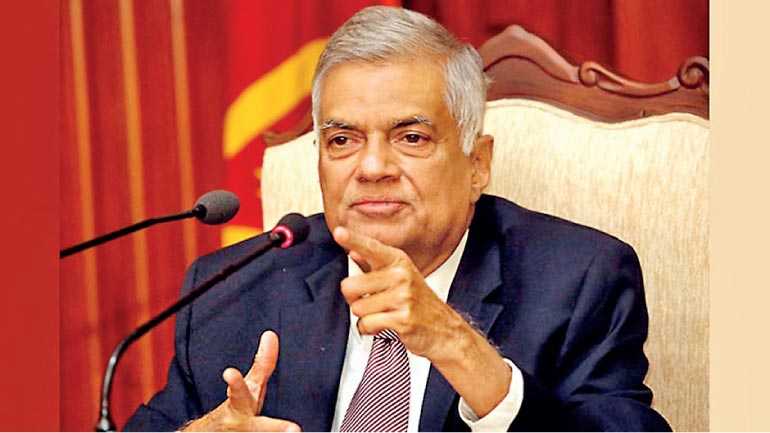 Former Prime Minister Ranil Wickremesinghe
---
Says Govt. handled first wave well but failed to take on-board crucial needs such as community testing
Insists Opposition gave support considering gravity of virus and to put people first
But accused Govt. of changing priorities and risking second wave, which could have more serious impact
Warns country will struggle harder to overcome second wave
---
The United National Party (UNP) yesterday charged that the Government's preparedness to face a possible COVID-19 second wave was inadequate.

UNP leader and former Prime Minister Ranil Wickremesinghe said that the UNP was not satisfied with the Government's preparedness for another outbreak of COVID-19, pointing out that public health and not politics should be the Government's first priority at this stage.

"The biggest problem we all face today is the public health crisis. All of this started with COVID-19, had it not been for COVID-19 the priorities and situation would have been much different today," Wickremesinghe told a group of party loyalists at Sirikotha yesterday.He stated that it was every citizen's duty to ensure that a second wave of the virus does not spread in the island. "If a coronavirus second wave spreads around it will seriously affect social systems and economic rejuvenation and we won't be able to recover from it," he opined.

The former Prime Minister said that the UNP had been supportive of the Government's efforts early on, but lately the Government seems like it has a different agenda. Wickremesinghe charged that the Government did not work with the Opposition to bring necessary changes to better combat COVID-19.

"We made many proposals and requests, including urging them to increase COVID-19 testing, but they didn't accept it. We made the requests and proposals based on what was best for the people," he said.

Wickremesinghe pointed out that many developed countries were suffering from high casualties in the second round, citing India, China, South Korea and the US as examples. The Wold Health Organization has also warned about the impact of the second wave, he added.

The embattled party leader claimed that only a UNP-led Government can effectively control a COVID-19 second wave. "We must replace this Government that doesn't have good contingency plans with one that can handle them," he said.