Pressure to increase prices amidst rising cost of living discussed but no finality at Cabinet meeting
Cabinet Co-Spokesman indicates certain changes might have to be taken considering global prices and supply constraints
Assures Govt. will make an impartial decision considering both consumer and supplier interests
---
By Charumini de Silva
---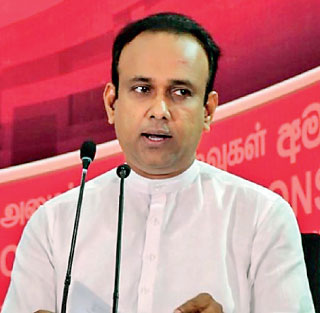 Cabinet Co-Spokesperson and Plantation Industries Minister Dr. Ramesh Pathirana
---
The Government yesterday said that no decision had been made yet to increase the prices of essential goods this week, though it was taken up at the weekly Cabinet meeting held on Tuesday.

"No decision was made to increase the prices of essential goods, although it was discussed at the Cabinet meeting this week. However, some decisions have to be made in view of the prevailing world prices and supply conditions," Cabinet Co-Spokesperson and Plantation Industries Minister Dr. Ramesh Pathirana said at the post-Cabinet meeting media briefing yesterday.

He said the appreciation of the US Dollar against the Sri Lankan Rupee was a major concern that the Government is constantly grappling with.

"The main problem faced by the Government is whether the suppliers will supply at the relevant prices without any hindrance or otherwise the consumers will be inconvenienced. Earlier, we allowed a private gas company to increase prices, but the supplier failed to deliver, stating that they've run into cash flow problems due to the foreign exchange crisis," he added.

Dr. Pathirana said the Government always tried to take an impartial decision by comparing the problems of both suppliers and consumers.

Despite no decision being taken by the Cabinet at its meeting on Tuesday, on the same day, Cooperative Services, Marketing Development and Consumer Protection State Minister Lasantha Alagiyawanna said that the Government would take a final decision on an upward price revision on rice, milk powder, wheat flour, LP gas and cement.