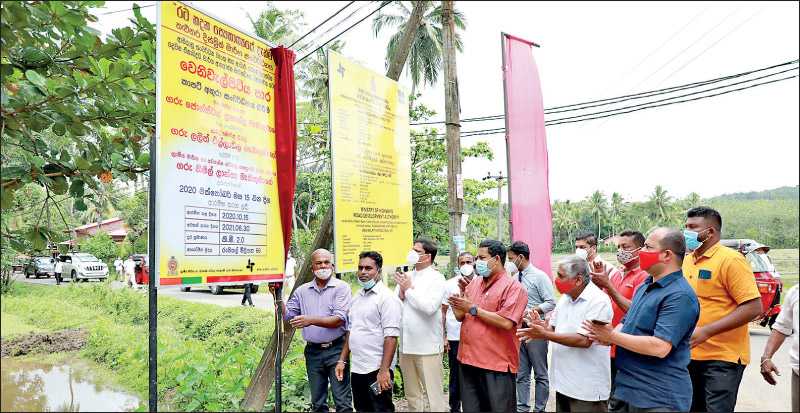 ---
Inaugurates several road development projects assisted by ADB in Bandaragama
Construction of 790 km roads stopped by previous Govt. to be resumed within next 2 months
Rural Roads and Other Infrastructure Ministry receives 9,000 proposals to replace rural bridges
---
Rural Roads and Other Infrastructure State Minister Nimal Lanza, yesterday said that the Government will forge ahead with development activities, while protecting the citizens from the COVID-19 pandemic. He made these remarks inaugurating several road development projects in the Bandaragama electorate in the Kalutara District yesterday.

The Asian Development Bank (ADB) has allocated Rs. 162 million for the development of five kilometres (km) of rural roads under the Second Integrated Road Investment Program. Under this project, Kelesgamuwa, Weniwelpitiya and Lenawara Thibbotugoda roads will be carpeted and developed.

Noting that the development of 790 km of roads started by the former Government were stopped halfway, the State Minister said that after seeking instructions from the Attorney General's Department, the construction of these roads will commence within the next two months.

"The AG's Department has instructed to call for tenders to resume construction of these roads. Most of them are in the Kalutara district," he said. The Ministry has received around 9,000 proposals for rural bridges to replace the existing bridges, vines and small bridges throughout Sri Lanka. The Government aims to prioritise and build them within the next four years.

"We plan to launch a bridge project in every electorate in Sri Lanka on 1 December," Lanza said. The State Minister also stated that President Gotabaya Rajapaksa has instructed to construct 30,000 km next year to achieve the target of developing 100,000 km of roads.

Member of Parliament Lalith Ellawala and Project Director Jennifer Weerakoon were also present at the occasion.