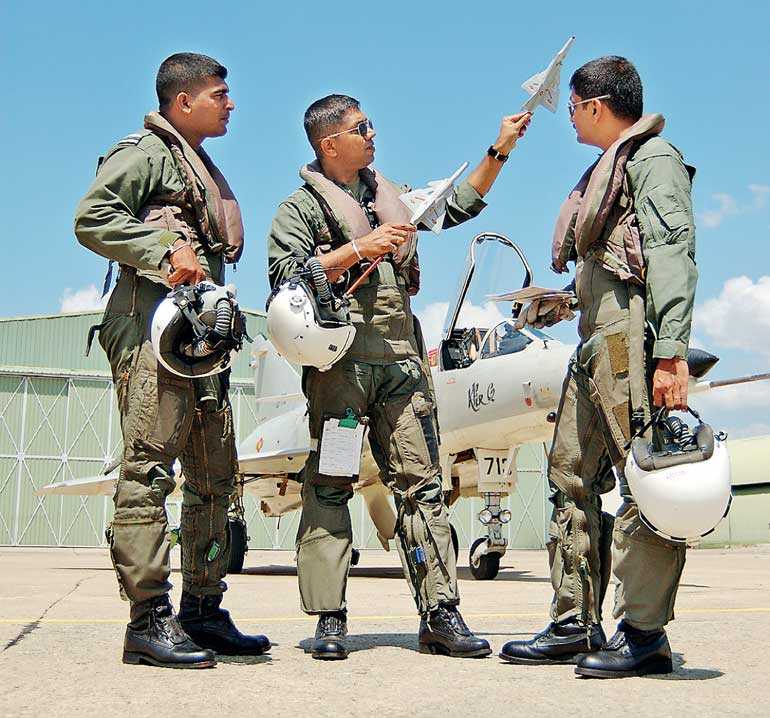 Pilots from No. 10 Squadron discuss mission plans before take-off
---
By Asiri Fernando
---
The Government has approved a proposal worth $ 49 million to overhaul and upgrade five Kfir fighter jet aircraft of the Sri Lanka Air Force (SLAF).

Cabinet Spokesman and Mass Media Ministers Keheliya Rambukwella told the Daily FT that the Cabinet of Ministers had approved the proposal and that the contract will be awarded to the original equipment manufacturer (OEM), Israeli Aircraft Industries.

The SLAF inducted the Israeli built Kfir C2 fighter jets and TC2 trainers in 1996 standing up No. 10 Squadron, which evolved into the main strike – bomber formation during later stages of the Eelam Wars. With only a few Kfir airframes remaining serviceable after 2009, plans to overhaul the fighter jets have been delayed over several years due to budget constraints.

The move to overhaul and modernise the jets come as No.10 Squadron celebrated their 25th anniversary yesterday.

"Four single-seater jets and a trainer will be overhauled and upgraded. Currently, the jets have analogue equipment. We want to upgrade them to modern digital systems. Communications, navigation and weapons delivery systems will be modernised," SLAF Commander Air Marshal Sudarshana Pathirana told the Daily FT.

"Once the agreement is signed, the IAI team will overhaul and upgrade one aircraft, the second, third and fourth aircraft will be overhauled jointly with the SLAF, so that we can learn from them. The final aircraft will be overhauled and upgraded by a SLAF team under IAI supervision," Air Marshal Pathirana explained.

Responding to criticism about high expenditure on defence, Air Marshal Pathirana stressed that the overhaul and modernisation of the existing fleet was the most cost-effective choice.

"A new fighter aircraft would cost in the range of $ 40 million a unit. We have already spent a lot of money on the Kfir fleet, we have good experience with it. If we let them go now and the SLAF would not have a fighter capability and the investment made to the fleet up to now would be lost.

"We have to remember when the war started, we (SLAF) had to wait till the jets came into service in 1992 to effectively employ airpower against the enemy. For ten year (1983-1992) the LTTE grew. It took us till 1992 to deliver air munitions with good accuracy on call on the battlefield. "We have learned from that experience and as senior military aviators; we want to ensure that we pass on what we have learned to the juniors and make sure that they don't face the challenges we faced," the Air Force commander opined.

The proposal will include a spare parts package and will give the jets a 15-year life cycle, Air Marshal Pathirana added. The agreement with IAI is expected to be signed in the first months of 2021, the SLAF said.