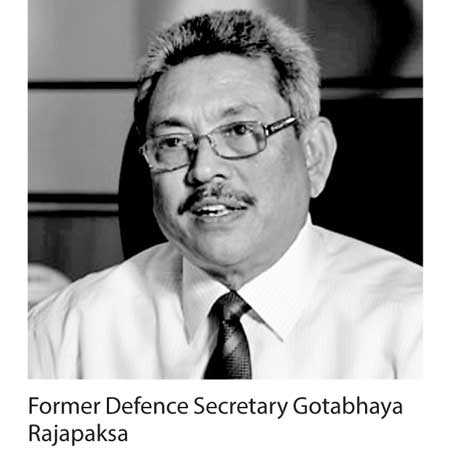 Calls on all intellectuals and professionals to support effort on 5 Sept.
Former Defence Secretary Gotabhaya Rajapaksa yesterday called for the support of intellectuals and professionals to support the Joint Opposition rally to be held on 5 September.

Releasing a letter Rajapaksa, who is seen as a presidential hopeful at the next election, said that he could no longer sit on the side-lines, and called on the public to be "counted in the larger struggle to save our nation".

"The political situation borders on anarchy and our nation hurtles towards disaster. At this moment, professionals and intellectuals can no longer look away. It is often said that evil will triumph easily where the good remains silent. We must choose not to stay silent. In this context, I urge all professionals and intellectuals to support the patriotic forces who have organised the rally 'Janabalaya Kolambata' on 5 September."

Rajapaksa also insisted that the country has fallen into an extremely challenging situation, both economically and politically.

"Sri Lanka has never, in its long history, fallen to the political, social and economic depths that the nation has witnessed in recent times. Having recognised the dangerous trends across all sectors, we have engaged in various processes and readied ourselves to take up the challenge of rectifying the status quo in a systematic manner. A large number of professionals and intellectuals from all walks of life, irrespective of their religious and ethnic identities, have rallied around us for this purpose."

He also hinted that he may take a more hands-on approach in directing political activities of the Joint Opposition and the Sri Lanka Podujana Peramuna (SLPP).

"It is no secret that I have so far desisted from participating in activities of the mainstream political forces. I am aware that you, as professionals and intellectuals who consider it imprudent to dabble with larger discredited political entities, have silently endorsed my position."

"The scale of the serious calamities unfolding before us at this very moment, however, necessitates an impactful response. Therefore, I now believe we are at a juncture where everyone must set aside such concerns to step up and be counted in the larger struggle to save our nation as we know it."

Rajapaksa charged the state apparatus was "being abused to unjustly and arbitrarily violate the fundamental democratic right of espousing dissenting political views. The Government is engaged in the rampant violation of fundamental democratic norms in ways that threaten the very foundations of a functioning republic. Even the basic right of expressing political preference has been flagrantly violated through the arbitrary and illegal postponement of elections."

He alleged the Government has pursued a policy of ceding control over key sectors of the economy to foreign interests despite strong opposition from stakeholders, professionals and the general public.

"It has entered into agreements in the most unprofessional and unethical manner, with scant regard for technical concerns. Most alarmingly, many of these agreements do not include clauses for renegotiation or annulment. Moreover, these have been drafted and signed without ever being subjected to the review or consideration of Parliament."

"The economic doldrums we find ourselves in today are evidenced by the gloomy numbers pertaining to inflation, debt ratio, balance of payments, the value of the rupee against the dollar and foreign investment," he added.