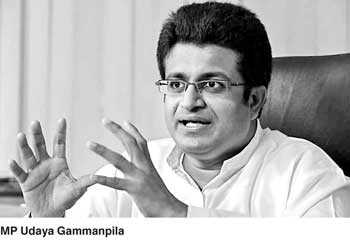 Opposition MP Udaya Gammanpila yesterday filed an appeal to the Ministry of Finance to obtain details regarding the fuel pricing formula yesterday.

The initial request made by the leader of the Pivithuru Hela Urumaya on 19 September was rejected by the Ministry, stating that the formula can be used to predict the price of energy and falls under the category of protected information as per the RTI Act.

He said the people have the right to know how the formula works, pointing out that the fuel price does not change as per the international price.

"We have submitted an RTI application to the Department of Fiscal Policy Information Officer. He later informed me that the information cannot be given, stating that the information I seek is too sensitive according to the Government's economic policies. Therefore, I have submitted an appeal today to the officer in charge of the appeal process," he added.

He pointed out that revealing the fuel pricing formula will not cause any damage to the Government's policies. He further said that he is ready to file a case if the Department of Fiscal Policy refuses to provide the information.

"The Minister of Finance hinted that there is another fuel price hike looming. Therefore, we are using the rights given to us from the 19th Amendment. Under the Constitution, my human rights were violated by the refusal to provide information I requested," he added. He went on to say that revealing the fuel pricing formula will affect the Government's policy decisions.