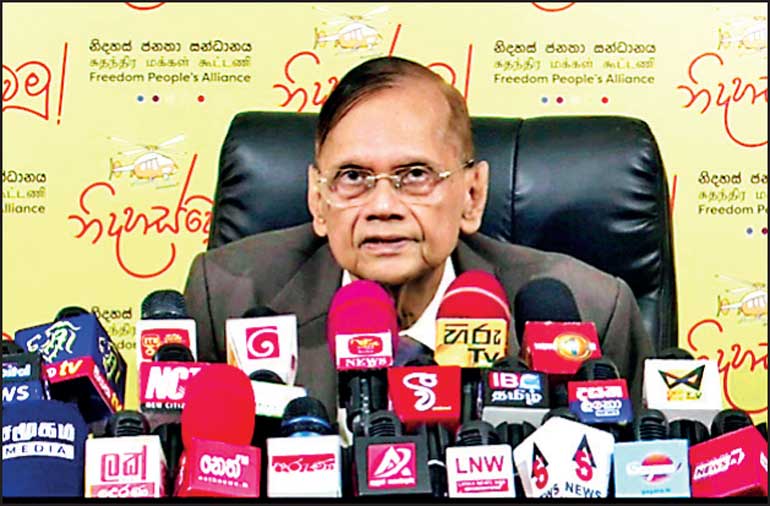 MP Prof. G.L. Peiris
---
Says low-income earners will face the brunt if domestic debt is restructured
Claims Govt. must first implement a social security net before taking any other steps
Notes only 0.5% of IMF bail tranche will be required to hold LG polls
Asks Govt. to provide funds to ECSL and says the lack of funds excuse is not valid anymore
Freedom People's Congress member MP Prof. G.L. Peiris says his party is against the Government's attempts to restructure domestic debt. "They are attempting to restructure domestic debt. We are fully against this," he said, adding that low-income earners will suffer unfavourable consequences if it is allowed to go ahead. "It will not take long for them to experience these grave consequences. It will happen in a very short time and the people will be able to witness this with their own eyes," the MP noted. Peiris said low-income earners will be the first to face difficulties in the event the domestic debt is restructured. He made these comments during a press conference at the party office in Colombo yesterday.

"Electricity and water are necessities for life. Increased interest rates have caused a loss of livelihood," the MP said. According to him therefore the Government must first implement a social security net to safeguard these vulnerable communities. "Relief must be provided systematically to ensure they can continue with their lives," the MP said. Peiris pointed out that this is where the Government must start and can then go on to taking other necessary steps. "But we are not seeing any efforts in this regard," he added.

Meanwhile commenting on the postponement of polls Peiris said only 0.5% of the first tranche of the IMF bail-out package. "The Government has no excuse. Now there is no issue with funds. Instead of the lack of funds now the issue is if the Government has the will to hold polls. The current situation is extremely unsatisfactory," he said. Noting that local Government bodies now do not have a single public representative after the lapse of their term, the MP said this is not suitable for a democratic setting. The MP said the new committees appointed by the Government to oversee local Government bodies have no use. "We ask the Government to stop using these excuses. Provide the Election Commission with the funds necessary and allow them to hold polls," he said.