Says suspension of imports under 305 HS codes is indiscriminate
Warns ban on items necessary for production would lead to shrinking of exports
Says it could also lead to significant job losses
---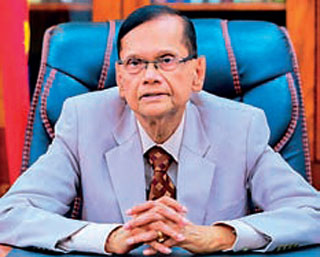 Sri Lankan Podujana Peramuna (SLPP) Chairman Prof. G.L. Peiris
---
Sri Lankan Podujana Peramuna (SLPP) Chairman Prof. G.L. Peiris has called on the Government to urgently revise the HS classification codes to allow for the importation of items necessary for industrial production.

Peiris pointed out the temporary ban on the importation of items listed under 305 HS Codes is indiscriminate and warned it could lead to disastrous effects across industries leading to a significant number of job losses.

According to Peiris, tea, rice, apparel, and automotive are just some of the industries that will be affected which in turn would hamper their production processes. "Therefore, it is an imperative necessity to urgently revise the ban to safeguard jobs and livelihoods. Banning imports of inputs for industrial production is a serious issue. Failing to rectify this will be disastrous," he said.

The Government last week temporarily banned the importation of over 300 items under the Import and Export Control Act.

Cited as the 'Imports and Exports (Control) Regulations No. 13 of 2022', it temporarily suspended the importation of items listed under 305 HS Codes, effective from August 23 and effective until further notice.

According to Peiris, the Government has however failed to differentiate between luxury items and those indispensable for production processes. He pointed out that in reality, the importation of over 1,300 items has now been banned under the subcategories of the main HS classification codes.

"For example, importation of spare parts for many electronic items has been stopped. Many companies outsource such services. What would happen to those involved in supplying repair services now due to the lack of spare parts? Businesses are closing down," he said.

Noting that Sri Lanka is attempting to increase its dollar income due to the forex crisis, Peiris said the only way to do so currently is through exports. "There is a lack of foreign aid and Sri Lankan is maintaining it will not increase its debt stock by taking out loans. Worker remittances have dropped and the tourism industry has all but collapsed. Exports were our only silver lining to bring in dollars," he said.

However, Peiris said the export industry will now be heavily impacted by the bans imposed. "We need inputs from abroad for the industrial production of many goods we export. We will not be able to produce these without the necessary items," he added.

"We are attempting to expand our GDP but the opposite will happen. How can the Government improve the situation and stop Sri Lanka's growth from falling further by imposing such bans," he asked.

Peiris said the ban on many items necessary for production in the country will lead to a shrinking in production and the loss of jobs at a time the cost of living is already skyrocketing due to rising inflation levels. "This will lead to a dire situation," the senior politician warned.

Peiris also said the commercial activities of many companies will be detrimentally affected. "While we say the private sector is the engine of growth, unless the HS codes are revised it would invariably lead to a contraction of business," he said.

"Therefore, the indiscriminate suspension on the importation of items will have tremendous repercussions which will be seriously detrimental. This is why the Government must take steps to rectify this and revise the HS classification codes," he noted.