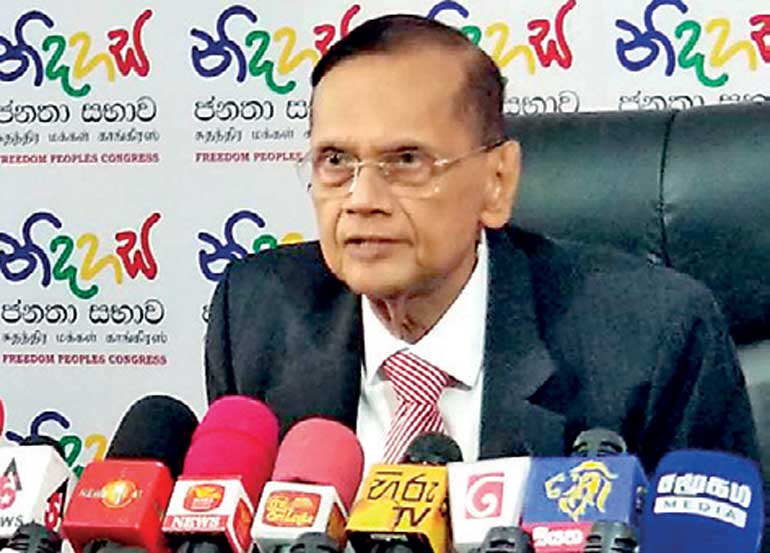 Prof G.L. Peiris
---
Notes present P'ment cannot continue following election as it will reflect a distortion of the people's mandate
Claims Govt.'s popularity is fast-dropping and they are well aware of this phenomenon
Says 9 March poll will have national level importance
Freedom National Congress member Prof G.L. Peiris called for the Parliament to be dissolved following the Local Government Elections scheduled to be held on 9 March.

Addressing a press conference yesterday in Colombo, Peiris representing the Sri Lanka Podujana Peramuna (SLPP) breakaway group, said the present Parliament should not continue following the poll. "It will be a distorted Parliament and will not represent the will of the people in the least," he said. According to him, therefore the Parliament will have to be dissolved to reflect a new mandate.

The Parliamentarian said the Local Government Poll will test the popularity of the Government and will not just be about the election of local Government councillors this time around. "The 9 March poll has an importance at a national level," he said. According to Peiris, the Government's popularity is fast-dropping and their defeat at the Local Government Election will be inevitable.

Peiris said the poll will test the popularity of the current Government. He claimed the people are now tired of the Government and it is aware of its unpopularity among the people. Hence, he said it has been attempting many tactics to avoid the election by delaying it. Having failed every attempt, Peiris said the election will definitely be held on 9 March.