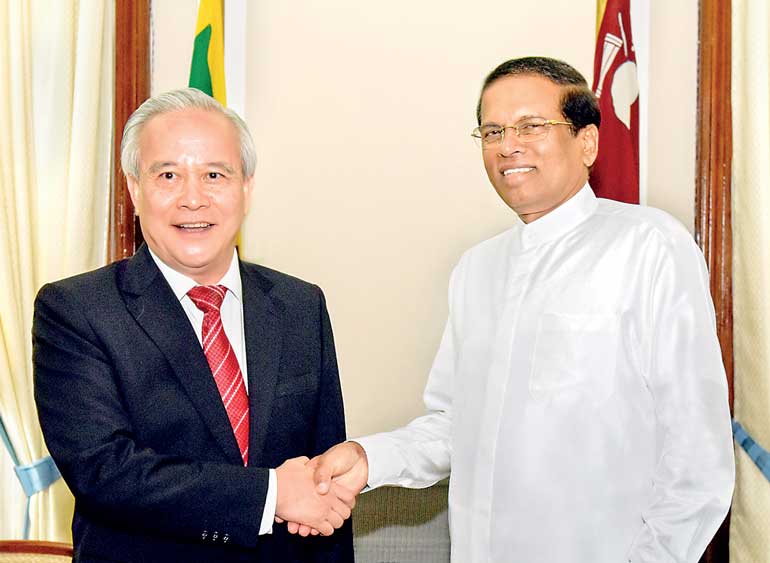 The foreign invitees to the Independence Day Anniversary celebrations including the Earl of Wessex Prince Edward and the Countess of Wessex Sophie, as well as Special Envoys of the Japanese and Chinese Governments, called on President Maithripala Sirisena at the Presidential Secretariat on 4 February.

The Prince and Countess of Wessex were warmly received by the President and First LadyJayanthi Sirisena.

During this meeting, the President expressed his gratitude to Prince Edward for accepting the invitation extended to the Royal Family to attend the 70th independence anniversary celebrations and participating in this event. The President recalled the first visit of Queen Elizabeth II to Sri Lanka in 1954 and the subsequent visits made by the members of the Royal Family including Prince Charles.

"Relations between the UK and Sri Lanka have strengthened after gaining independence in 1948," the President said, adding that the Victoria Reservoir, which was built with the support of the Government of Great Britain, was a turning point in hydro power generation in the country and further said that it makes a special contribution to the national economy of Sri Lanka today.

The President recalled the warm hospitality he received with gratitude during his tour to the UK in 2015 where he met Queen Elizabeth II.

Expressing his views Prince Edward said that he was pleased to visit Sri Lanka specially to attend the 70th independence anniversary celebrations. He appreciated the speech made by the President at the Independence Day anniversary celebrations and said that the future of the nation was strengthened in a country where more people were educated, adding that there was a special relation between Sri Lanka and the UK in the field of the education, recalling the statement made by the President on the need for efficiency in educational reforms and planning educational policies to meet the demands of the present world.

It was also agreed to meet again at the Commonwealth Heads of Government Meeting in the UK.

During this meeting, the Prince Edward symbolically handed over a stoneto the President,marking the implementation of the project to construct walking paths in the City of Colombo under the programto construct eco-friendly walking paths in the cities of the member countries of the Commonwealth.

Meanwhile, the Japanese Prime Minister's Special Envoy Wataru Takeshita, Japan's Minister for Reconstruction and the Chairman of the Japan-Sri Lanka Parliamentarians League, who visited the country to attend the 70th independence anniversary celebrations, also met with President Sirisena at the Presidential Secretariat.

The longstanding relationship between Sri Lanka and Japan was recalled during this meeting and further strengthening these tieswas discussed.

Chinese People's Political Consultative Conference Vice-Chairman Wang Qinmin, who also attended the independence celebrations, called on President Sirisena at the Presidential Secretariatand discussed bilateral relations.