Cabinet approval given for agrarian centres to purchase already imported fertiliser and sell to farmers
Ministry gets nod to import 15,000 MT of urea and super phosphate to be distributed in July
Govt. says extra fertiliser needed due to higher demand
By Uditha Jayasinghe

Cabinet yesterday gave approval for the Agrarian Development Centres to purchase remaining stocks of fertiliser imported under the Government subsidy and make them available for sale to farmers at Rs. 1,000 per 50 kg pack.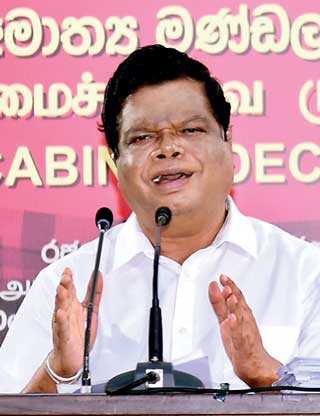 Cabinet spokesmen

Bandula Gunawardena

- Pic by Ruwan Walpola


Cabinet approved the proposal presented by Mahaweli, Agriculture, Irrigation and Rural Development Minister Chamal Rajapaksa for Agrarian Development Centres to purchase already-imported fertiliser from Government fertiliser companies. "There have been repeated complaints about the non-availability of fertiliser and this is an effort to address these concerns and ensure that farmers can purchase paddy at a reasonable cost at a place that is convenient to them," Cabinet Spokesman Bandula Gunawardena told reporters.

Fertiliser is issued under the fertiliser subsidy for paddy cultivations up to five acres. If farmers are cultivating land larger than five acres, then the fertiliser needed has to be purchased from the open market.

Gunawardena said that under these circumstances, a shortage of fertiliser used for other crops had been created in the open market partly because the demand for fertiliser had increased due to the expansion of land under cultivation, especially as a result of COVID-19 conditions. The Government has also encouraged home gardening and other initiatives to boost food security and encourage exports of crops such as spices.

Cabinet also approved the procurement of $ 3.7 million worth of urea and phosphate after considering tender bids. As such the Mahaweli, Agriculture, Irrigation and Rural Development Ministry was given the green light to purchase 9,000 metric tons of urea (granules) from Agri Commodities and Finance FZE for a sum of $ 260 per metric ton. In addition 6,000 metric tons of triple super phosphate from Aries Fertilizers Group Ltd. will also be purchased for a sum of $ 249.07 per metric ton.

The bids were called for the procurement of fertiliser for Lanka Fertilizer Ltd. (Lak Pohora) and Colombo Commercial Fertilizer Ltd. for the requirement of fertiliser during the month of July.