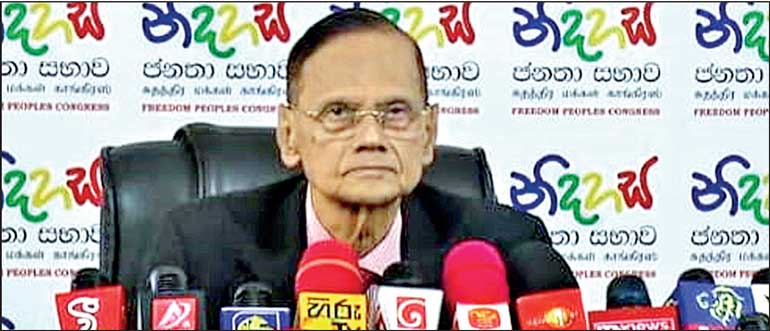 Asserts say FPC stands for a principle, not an individual
Claims Ratnayake adopted sympathetic attitude to ensure basic needs of people
Stresses PUCSL must be allowed to work without undue intervention by politicians
Says MPs will face difficulty to raise hand and vote to fire of Ratnayake, who served public interest
Independent Parliamentarian Prof. G.L. Peiris affirmed yesterday that members of the Freedom People's Congress (FPC) will vote against the Government's motion tomorrow (24) to remove the Public Utilities Commission (PUCSL) Chairman Janaka Ratnayake.

"We have decided to strongly oppose this motion," he asserted. Peiris claimed that FPC is standing up for a principle rather than a specific individual, adding that Ratnayake has carried out his duties while showing consideration for the fundamental requirements of the citizens. "We perceive this very clearly as a matter which goes beyond individuals and as a crucial element of public policy," Peiris said. "If the PUCSL was formed using public funds, it must be permitted to carry out its duties without undue intervention from political authorities," he noted.

Prof. Peiris also noted that the current Chairman firmly disagreed with the power cuts imposed during the Advanced Level examination and argued that electricity rates might be slashed by 27% using scientific methodology.

"We are not for a person, we are for a principle. Ratnayake has had the courage, the determination to stand for the interests of the people of our country. It is the responsibility of the public representatives in Parliament to stand up for such a courageous official," he stressed.

He also said it will be exceedingly difficult for MPs to raise their hand and vote for the removal of Ratnayake, who has acted in the interest of the people and to justify their decision to the long-suffering public who are being asked to pay exorbitant electricity tariffs.