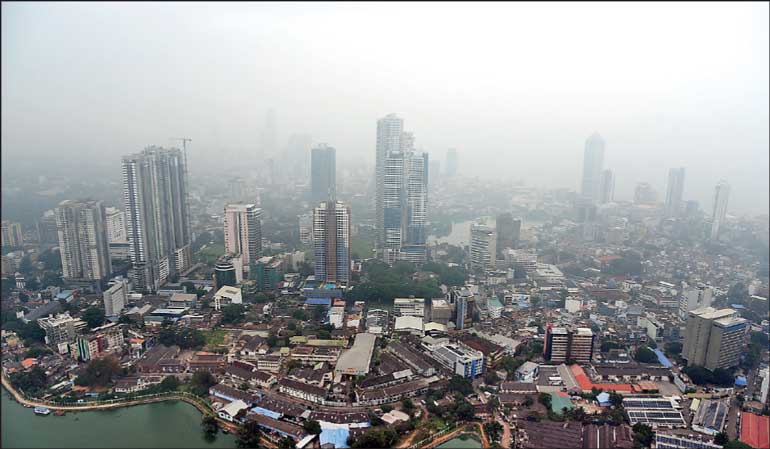 An aerial view of Colombo city yesterday - Pic by Samantha Perera
---
Warns public in high air pollution areas of Colombo, Kandy, Ratnapura, Jaffna, and Vavuniya
Recommends wearing face masks outdoors, especially for children, elderly, individuals with heart and respiratory conditions
As per Air Quality Index 150-200 is termed 'unhealthy'
AQI shows 212 in Jaffna, 189 in Gampaha, 181 in Colombo, 170 in Dambulla, 170 in Negombo, 161 in Kandy and 157 in Ambalantota
NBRO Director Environment Sarath Premasiri says situation is concerning
Points out fog or mist is not a 'natural occurrence', happened due to winds from India carrying polluted air
---
The Environment Ministry requests the public in Colombo, Kandy, Ratnapura, Jaffna and Vavuniya districts to be cautious of high air pollution.

The Ministry cautioned children and elderly individuals with respiratory and heart diseases to wear a face mask during outdoor activities.

The National Building Research Organisation said Colombo recorded 181 yesterday as per the Air Quality Index that measures air pollution. As per the AQI 150-200 is termed 'unhealthy'.

"The situation is concerning as it will impact people with respiratory issues. We have noticed that the average air pollution levels have doubled or more. We anticipate that the situation will get back to normal levels by tomorrow (9)," NBRO Senior Scientist and Coordinator – Air Quality, Noise and Vibrations Sarath Premasiri told journalists yesterday.

It is noted that the fog or mist that is seen these days is a 'not natural' occurrence as the air quality has reached very unhealthy levels in the northern part of Sri Lanka registering over 200 in the AQI due to winds from India carrying polluted air. The AQI index was 212 in Jaffna, 189 in Gampaha, 170 in Dambulla, 161 in Kandy, 170 in Negombo, and 157 in Ambalantota.The NBRO which monitors air pollution confirmed a few days ago also that the quality of air in several parts of the country has diminished.