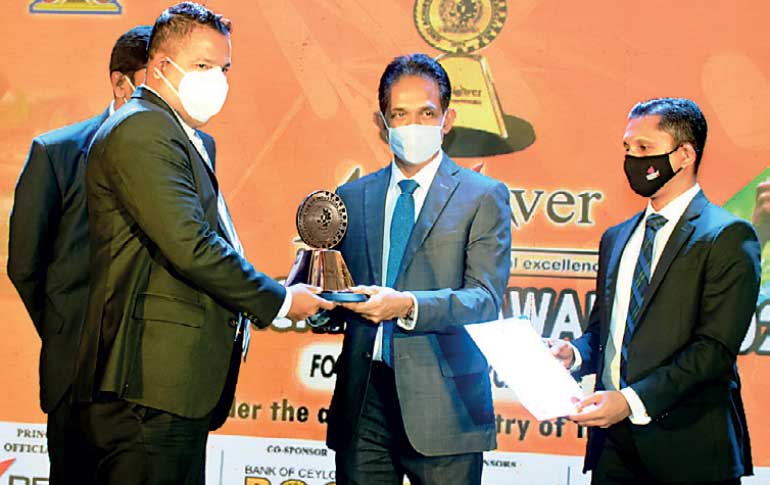 EXTERMINATORS Business Development Director – Sri Lanka/Maldives Travis Ferreira receiving the award
EXTERMINATORS, Sri Lanka's premier environmental enhancement technology company, is delighted to announce that the company won their 58th award for business excellence at 20th CNCI Achiever Industrial Excellence 2021.

The Ceylon National Chamber of Industries initiated the Awards scheme to boost the industrial sector in the country by recognising and rewarding those industrialists who excel well in their businesses. The contestant companies are evaluated based on their performance shown in the areas of quality standards, productivity, corporate plan, research and development, employee benefits, labour relations etc., while paying concerns over the social and environmental obligations; thereby, encouraging these industries to reach further heights.

EXTERMINATORS have won 58 national and international awards, including 10 gold awards for business, brand, industrial excellence, entrepreneurship, environmental leadership and corporate social responsibility. The company is the eight-time champion SME brand in Sri Lanka. Asia's first 'Great Place to Work' and Asia's 1st 'Carbon Neutral'-certified pest management brand, EXTERMINATORS is Sri Lanka's first SME brand to be certified under COVID-19 SLS safety management standards and the World's first 'Carbon Neutral'-certified disinfection/sanitation service brand.

It is also Sri Lanka's first pest management, termite management and mosquito management brand to be certified under international standards such as the ISO 9001 quality management system, ISO 14001 environmental management system and the ISO 45001 health and safety management system. Exterminators is also an ISO 22,000 food and safety management-certified brand.