New Gazette expands powers of Task Force appointed to prevent COVID-19 spread among armed forces and within military camps
---
By Chandani Kirinde
---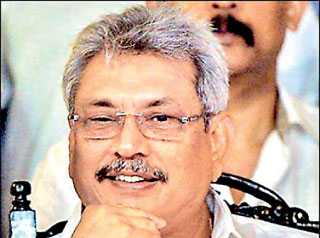 Gotabaya Rajapaksa
---
Drug addicts under rehabilitation and prison inmates have been brought under the scope of inquiry of the task force appointed by President Gotabaya Rajapaksa to study and provide instructions on measures to be taken to prevent the spread of COVID-19 among members of the armed forces and within military camps.
The new Gazette notification said it was imperative that speedy and immediate measures are adopted with a view to containing the spread of the coronavirus and preventing incidence of infection in the community.

Hence the Task Force was directed to include matters relating to those addicted to drugs under rehabilitation and inmates of the Prisons in the execution of the task assigned to them by the Presidential Directive. The six-member task force was appointed by the president in May following the spread of the Coronavirus among navy personnel attached to the Welisara Camp.

The Task Force is headed by Western Province Governor Air Force Marshal Roshan Goonetilleke and its other members are Admiral Jayantha Perera (Retd.), Rear Admiral Ananda Pieris (Retd.), Major General Sumedha Perera (Retd.), Dr. Bandula Wijesiriwardena and Dr. Wajira Senaratne. Additional Secretary to the President T.T. Upulmalee was named Secretary of the Task Force.