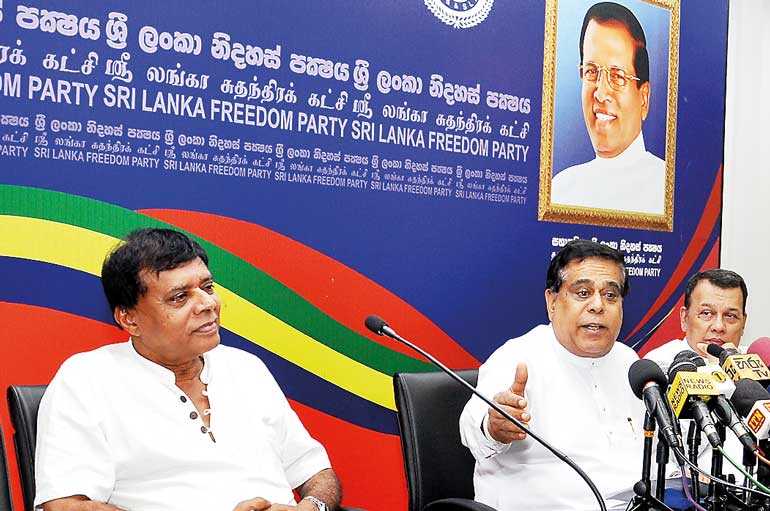 Transport and Civil Aviation Minister Nimal Siripala de Silva addressing the media yesterday along with SLFP General Secretary Prof. Rohana Lakshman Piyadasa and Ports and Shipping Minister Mahinda Samarasinghe – Pic by Ruwan Walpola
By Skandha Gunasekara

Action will be taken if any of the SLFP Group of 16 take part in the Sri Lanka Podujana Peramuna protest rally in September, the SLFP said yesterday.

SLFP stalwart and Minister of Transport and Civil Aviation Nimal Siripala De Silva yesterday said that the party would take disciplinary action against SLFPers who take part in the massive protest march organised by the Sri Lanka Podujana Peramuna and the Joint Opposition.

"We shall see who goes to take part in this rally and then decide what disciplinary measures to take against them," the Minister said.

Minister De Silva made these remarks while addressing a media briefing held at the SLFP Headquarters on Darley Road yesterday.

The Minister said that he had been informed that 15 out of the SLFP Group of 16 had decided to participate in the protest march.

The Joint Opposition along with the Sri Lanka Podujana Peramuna are to carry out a public rally on 5 September in protest of the rising cost of living, increasing national debt, the alleged sale of national assets and corruption in the Government.

In addition, the Minister said that the SLFP Annual Convention would be held sometime before October.

"The party as a whole is being restructured and weak organisers will be replaced with strong leaders. We expect to hold out annual convention before October," he said.

Referring to the recent railway union strike and their demands, the Minister said he agreed with the union's position and that their salary anomalies must be rectified.

"The newly-appointed Salaries Commission will resolve this error in due course," the Minister said.