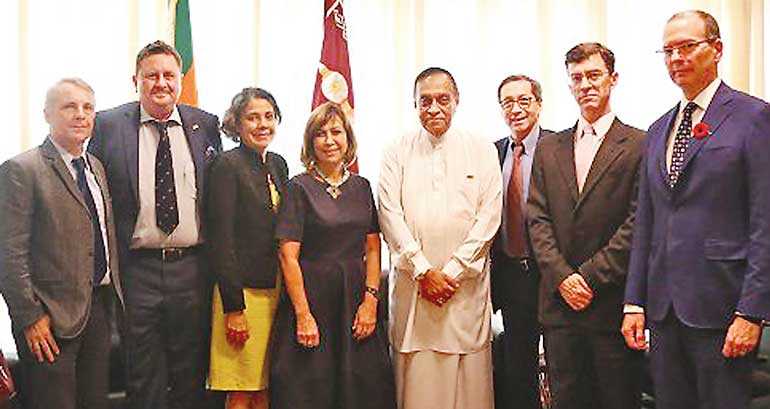 A group of envoys to Sri Lanka yesterday met with the Speaker of Parliament Karu Jayasuriya at the Parliament Complex and held a special discussion on the current political crisis in the country.

The political uncertainty was created as a result of President Maithripala Sirisena's dismissal of Prime Minister Ranil Wickremesinghe and appointment of President Mahinda Rajapaksa, followed by the prorogation of Parliament until 16 November.

The Permanent Representative of the United Nations to Sri Lanka Hanna Singer, Ambassador of the European Union to Sri Lanka and the Maldives Tung-Laï Margue, British High Commissioner James Dauris, High Commissioner of Canada David Mackinnon, and Ambassador of Germany Jorn Rohde met with the Speaker.

Expressing concern over the unexpected political developments in Sri Lanka, the envoys pointed out the adverse consequences Sri Lanka will have to face as a result of the constitutional crisis.

The Speaker said that he expects to meet with the President this afternoon and hopes that a constitutional and democratic solution can be found quickly to resolve the crisis.

The Speaker assured the envoys that the country would be able to provide democratic means expeditiously to resolve the crisis and requested the envoys not to take any hasty diplomatic or other actions against the country.