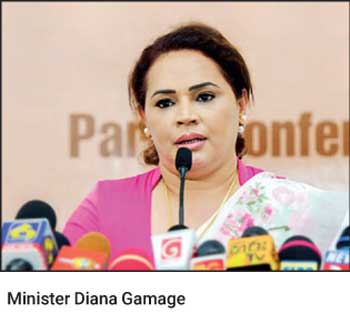 The Court of Appeal yesterday fixed the writ petition against Minister Diana Gamage for hearing on 28 November.

When the matter was taken up Counsel Hafeel Farisz appearing for the Petitioner told court that there is an urgency to the matter and that directions are sought from State entities.

The Bench comprising Justices Sobitha Rajakaruna and Dhammika Ganepola ordered that the petition be heard in the presence of all other parties. The matter was thereafter fixed for 28 November to be heard with all parties present.

A writ of quo warranto was filed by Oshala Herath, the complainant, in the Magistrate Court of Colombo against Diana Gamage.

The petition alleged that Gamage was not a citizen of Sri Lanka at the time of her appointment and had submitted fraudulent documents to the authorities.

Counsel Hafeel Farisz with Nishika Fonseka instructed by Gayan Darshana appeared for the Petitioner.