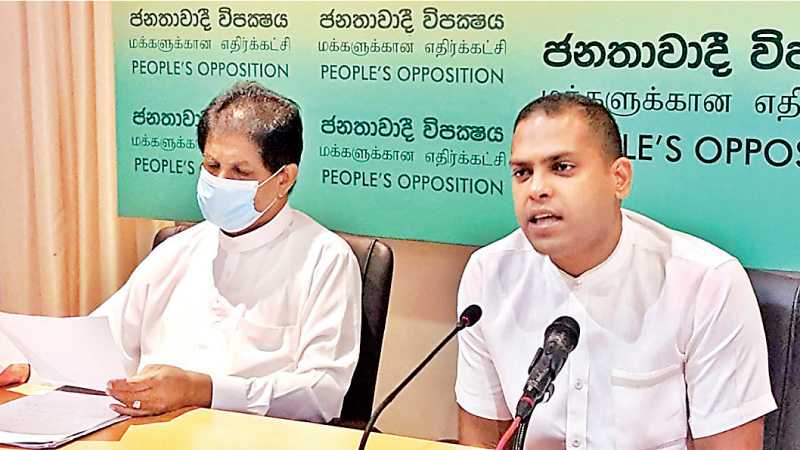 SJB Parliamentarian Harin Fernando and former MP Wijayapala Hettiarachchi addressing the press at the Opposition leader's office yesterday
---
Questions how Pillayan was released on bail but Abeysekera remains in custody
Says former CID head has impeccable track record as honest public servant and should be looked after
---
By Asiri Fernando
---
The continued detention of former Criminal Investigation Department (CID) Director Shani Abeysekara was political victimisation, charged Samagi Jana Balawegaya (SJB) Parliamentarian Harin Fernando yesterday.

Addressing the press, Fernando questioned how former Eastern Province Chief Minister Sivanesathurai Chandrakanthan alias Pillayan was granted bail on Tuesday but Abeysekera remained in custody. He was joined by former UNP MP Wijayapala Hettiarachchi. Fernando called on the Government on behalf of the SJB to provide Abeysekara with adequate medical facilities and ensure his safety.

"A man who waged war against this country, bombed civilian targets including places of worship like the Temple of the Tooth in Kandy and is responsible for the deaths of many Sri Lankan soldiers, known as Pillayan, is released on bail for the Deepavali festival. Today we receive news that former head of the CID Shani Abeysekara who I believe is one of the best policemen in the country with a good track record has tested positive for COVID-19 while in jail," Fernando charged.

Fernando added that Abeysekara played a key role in fighting organised crime and prevented a number of LTTE attacks in the South.

"We can remember how his investigations solved the Udathalawinna case and brought the culprits to book and we recall how Shani Abeysekara found the LTTE carders responsible for the Kelanithissa Power Station attack. Why did Shani Abeysekara end up like this? We wonder if he was exposed to COVID-19 intentionally?" the SJB MP charged.

"We call on the Government to stop this political victimisation of an honest public servant, who has done nothing but enforce the law. Don't take revenge from an honest law enforcement officer just because he investigated some of those connected to the present Government," Fernando urged the Government.

The Opposition MP stated that they will table in Parliament the achievements of Shani Abeysekara and continue to press the Government for his release and an end to the alleged political victimisation.