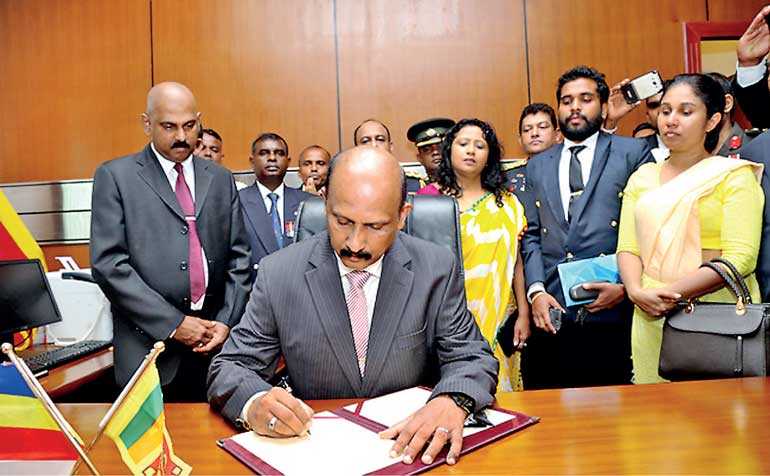 President Gotabaya Rajapaksa has called for the Armed Forces in a special gazette notification to ensure the safety of the public and has no intention of carrying out a military administration, the Defence Secretary Ret. Major General Kamal Gunaratne emphasised.

Defence Secretary Kamal Gunaratne said that despite some attempts to create fear in people by claiming the President's order is a move for a military rule, people are acting with understanding.

He affirmed that the security forces will only be deployed if there is an unmanageable situation in the country.

Speaking to media after attending religious observances at Mihintale Rajamaha Viharaya in Anuradhapura, the Defence Secretary said he has instructed the Police not to allow any political violence to take place anywhere in the country.

He further said the Police have been instructed to arrest the perpetrators regardless of political affiliations, race or religion, if such incidents happen and bring them before the law.

"I assure you that we will create an environment where no harm will come to any person, political party, religion or any ethnic community and for everyone to live in dignity," Gunaratne said.

When asked about the war veterans imprisoned during the previous Government on various charges, the Defence Secretary said the Government will bring justice to the war heroes who were prosecuted unfairly.

"A number of war heroes were subjected to a witch hunt and prosecuted. This Government will bring justice to those who were imprisoned unfairly."

Responding to a query on the steps to be taken regarding the Easter Sunday terrorist attacks, the official said the President Gotabaya Rajapaksa has promised Archbishop Malcolm Cardinal Ranjith that proper investigations will be conducted and the persons responsible will be punished according to the law.

"I believe he (the President) will fulfil justice for the families of those who died in the attacks. We will carry out the orders given by the President to the letter regarding the matter," Major General Gunaratne said.