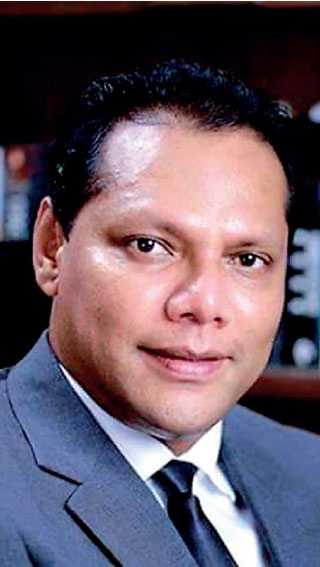 Dayasiri Jayasekara
---
The Sri Lanka Nidahas Podujana Sandanaya (SLNPS), which is the coalition including the Sri Lanka Podujana Peramuna (SLPP) and the Sri Lanka Freedom Party (SLFP), yesterday strongly criticised the Elections Commission as partisan, and threatened to take action against some of its members when the new Parliament is convened.

Speaking to reporters at the Sri Lanka Podujana Peramuna (SLPP) head office, SLNPS National Organiser and SLFP General Secretary Dayasiri Jayasekara said the behaviour of some EC members raised concerns about the Commission's impartiality, and charged a particular member of the EC was openly supporting a political party and a specific political ideology.

"Prof. Ratnajeevan Hoole's behaviour is very questionable. He makes false statements, which undermine the functioning of the State. He made a controversial statement about the Attorney General and Army Commander, which are unacceptable and lead us to question his impartiality as an EC member," Jayasekara charged.

The former Parliamentarian charged Prof. Hoole has damaged the reputation of the EC due to his recent behaviour. According to Jayasekara, Prof. Hoole's behaviour has led the public to question the impartiality of the EC.

"Prof. Hoole has behaved questionably. He was levelling baseless allegation against our members in the north, which is unacceptable behaviour," Jayasekara claimed, showing photographs to reporters that SLNPS offices in the north were removed by the EC after Prof. Hoole complained about them. However, the offices of TNA were not removed, he claimed. "We do not see any the problem of TNA having an office in the north but the questionable move was why Hoole decided to remove only the SLNPS office in the north," he added.

However, Prof. Hoole has always denied being partial to any political party or supporting the Tamil National Alliance (TNA).

Referring to President's Gotabaya Rajapaksa renouncing his US citizenship, Jayasekara noted the latest Federal Registry released by the United States government had confirmed that President Rajapaksa successfully renounced his US citizenship.

"The Opposition tried their best to prove that the President did not renounce his US citizenship. Some even went to court, which is their right. However, now everybody knows the truth and the public have realised the Opposition played dirty politics during the Presidential Election," he said.