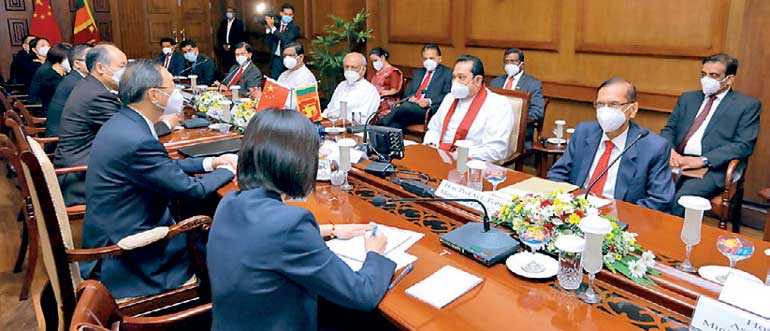 President Rajapaksa seeks Chinese help to set up a Technology and Engineering University in Hambantota
China and Sri Lanka on Friday discussed entering into a Memorandum of Understanding (MoU) to enhance cooperation in the education sector.

During the recent high-level visit, China Communist Party Politburo member Yang Jiechi, had an in-depth discussion with President Gotabaya Rajapaksa and Prime Minister Mahinda Rajapaksa on education and training cooperation between China and Sri Lanka.

The two sides had jointly prioritised it as a top field for bilateral relations development in the post-COVID era. Education Minister Prof. G.L. Peiris was also present at the meeting, which was held at Temple Trees. The Chinese Embassy said Yang proposed the two governments start consultation towards a MoU on education cooperation as early as possible, to lay out a framework for bilateral education exchanges. Considering the huge demand on Chinese learning in Sri Lanka, China is ready to expand cooperation with the island on language teaching, by providing international Chinese language teachers scholarships, jointly establishing Chinese language centres and so on. The Chinese senior official also stated that China attaches great importance to bilateral training cooperation between the two countries. In the past five years, over 7,000 Sri Lankan civil servants and technicians have been invited to actively attend a variety of training programs in China. Despite the COVID-19 pandemic, China will continue to provide online and offline training opportunities to Sri Lanka under its foreign assistance programs.

Upon the request made by President Rajapaksa for Chinese assistance in establishing a Technology and Engineering University in the Hambantota District, to expedite the industrialisation of Sri Lanka, Yang Jiechi acknowledged the importance of expanding higher education and vocational education and assured the Sri Lankan leaders that China will seriously study the proposal. Prior to the visit, the Chinese Embassy and the Ministry of Education had been looking at strengthening cooperation in distance education with advanced information technology and encouraging more Chinese enterprises to provide practical vocational training and career consulting to local youths.