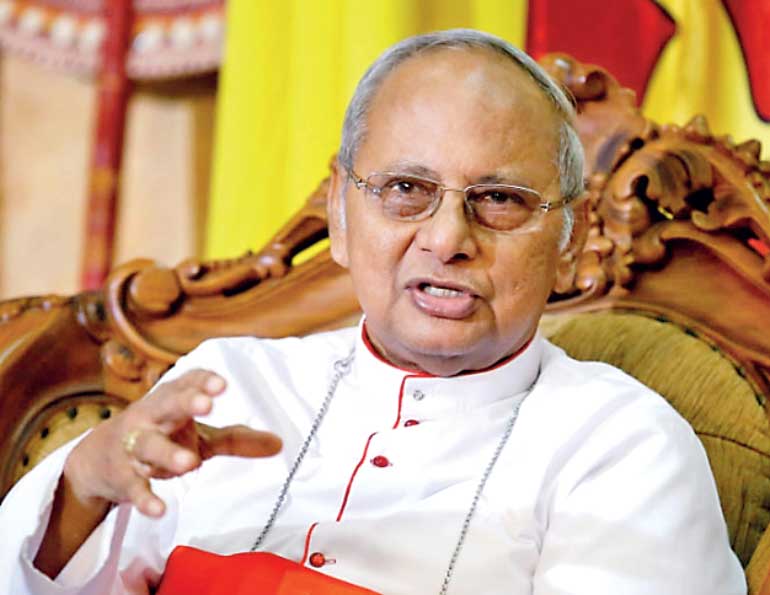 Cardinal Malcolm Ranjith
---
Says people must be allowed to respond to arrogant rulers
Claims leaders are happy while SL has to beg from other countries
Calls on EC to hold elections in March 2023
---
Archbishop of Colombo Cardinal Malcolm Ranjith has called on the Election Commission of Sri Lanka to hold local Government polls in March next year. "It is our right. The people must be given an opportunity to respond to arrogant rulers," he said. According to him, only an election will allow the people to express their sentiments regarding the Government.

The Cardinal made these comments while attending an event held at the Ragama Sacred Heart's Church yesterday.

Commenting on the current economic crisis faced by the country, Malcolm Ranjith said the middle class is dwindling by the day and many have now become poor. "People have no access to food and are struggling in their daily lives," he added.

The Cardinal noted that a country cannot be considered as developed merely due to the presence of new skyscrapers, highways and airports. "Such projects have only helped those in power to pocket commissions. No one knows what happened to this money. They have not resulted in the development of the country," he said, adding that many people are now going without even a meal a day.

During his speech, the cardinal also commented on the Government's plans to revive tourism and decorate the city of Colombo in preparation for Christmas in December. "In reality, the people have nothing to eat but they want to make it look like the heavens apparently," he noted. "The leaders are happy while Sri Lanka is going to every country in the world with a begging bowl. There is a lot of show but the coffers are empty" he said.

The Cardinal requested the Election Commission to hold the local Government elections in March 2023 noting it is a right of the people. "At least then we can answer these rulers," he said.

Meanwhile the Samagi Jana Balawegaya (SJB) also recently wrote to the Commission calling for elections to be held any time after 20 September.