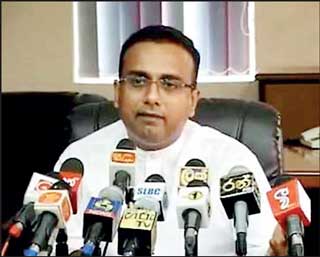 Minister Manusha Nanayakkara
---
The Cabinet of Ministers at its meeting on Monday approved amending the minimum age of females who plan to take up employment overseas to 21 years.
The proposal to this effect submitted by Labour and Foreign Employment Minister Manusha Nanayakkara was approved by the Cabinet of Ministers on Monday.

At present, the minimum age to take up employment as a domestic worker in Saudi Arabia is 25 years and, in other Middle East countries it is 23 years, whilst for the rest of the world, it is 21 years.

The decision to revise the said age limit was reached after considering the recommendations of the Cabinet-appointed Sub-Committee.

Earlier, the age limit of the migrant female domestic worker was 18 years. However, in January 2011, it was revised by the Cabinet to raise the minimum legal age of employment for migrant domestic workers to 21 years rather than 18 years.

The standard to review the minimum age of females leaving for overseas employment was first proposed by the then Foreign Employment Promotion and Welfare Minister Dilan Perera in 2011, as a means to deal with the problem of young migrant workers being abused and exploited by employers abroad.