---
Govt. extends invitation to all political parties to support decision collectively
Cabinet Co-Spokesman Dullas says decision will bring hope to people tired of public representation at Legislature
By Charumini de Silva

The Cabinet of Ministers this week has unanimously approved a proposal by President Gotabaya Rajapaksa to advise the Legal Draftsman to draft a proposal to amend the existing Ordinance to control election expenses,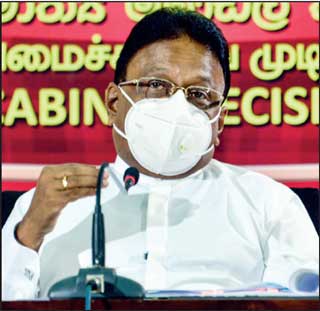 Cabinet Co-Spokesman

Dullas Alahapperuma


whilst considering the consensus of all stakeholders.

The need to control the expenses incurred by candidates or parties contesting in elections has been discussed by the Government previously. The 'Yahapalana' Cabinet of Ministers in 2017 also approved amending the existing Ordinance in order to make provisions to minimise the illegal conduct of elections.

"We hope this progressive move will be supported by all political parties without any divisions and we invite them all to rally around to successfully implement it as well," Cabinet Co-Spokesman Dullas Alahapperuma said at the post-Cabinet meeting media briefing yesterday.

He also pointed out that the Parliamentary Select Committee, appointed to identify the reforms related to the structure and rules of Parliamentary Elections and submit amendments, had reached an agreement in consultation with the relevant parties.

"The decision will bring hope to people who are tired of the current public representation in the Legislature," Alahapperuma said, adding that it was just a stepping stone in the right direction, whilst many more measures needed to be taken to conduct fair elections in the country.

The Minister also acknowledged the efforts taken by former Election Commission Chairman Mahinda Deshapriya to reduce election expenses.

"If a candidate, party or group spends too much money on the people's vote without any control, it can have a significant impact on the will of the people. Many countries, including India, have imposed rules and regulations to control election spending," the Government Information Department statement noted.