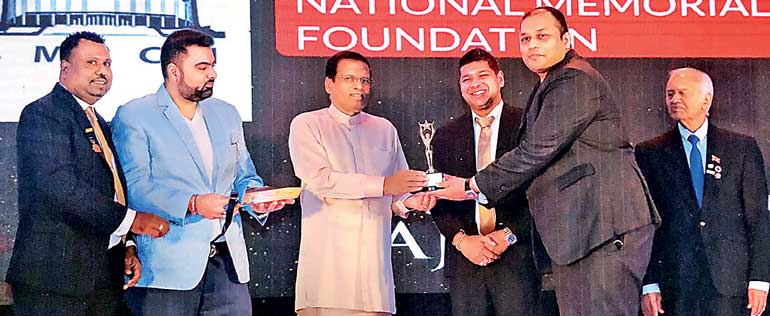 Chiran Keerthisinghe receiving the award on behalf of BMICH
BMICH, Sri Lanka's most recognisable and iconic landmark, recently won the prestigious BWIO Platinum Award of Honour for "The Most Outstanding Service Excellence Organization for the Year – 2020" in the large venue facilitators category. The award was presented by Business World International Organization, USA (BWIO) at the awards ceremony at the Taj Samudra Hotel, Colombo.

"We are delighted to be recognised for our continuous and steadfast commitment to service delivery level of excellence. Our well-coordinated team delivers the highest level of service to our clients, tenants and to visitors to our premises for any one of our numerous events," said BMICH Chief Executive Sunil Dissanayake.

BWIO – USA is a multinational business consulting and market research firm headquartered in USA which provides consulting to companies interested in increasing profits, sales and revenue or aiming to start new Ventures. It is the trusted advisor to many of the world's most leading businesses and institutions.

Set in sprawling landscaped gardens with 15 well laid out and spacious car parks that can accommodate 3,000 vehicles at a given time. BMICH is Sri Lanka's largest and Asia's very first purpose-built convention centre with ultra-modern facilities. BMICH is situated in one of the most prestigious locations in Colombo. BMICH won the South Asian Travel Award (SATA) Silver and Gold in 2018 and 2020. In BMICH also won the Quality ERA Geneva Gold Award and the Platinum Award in Paris.