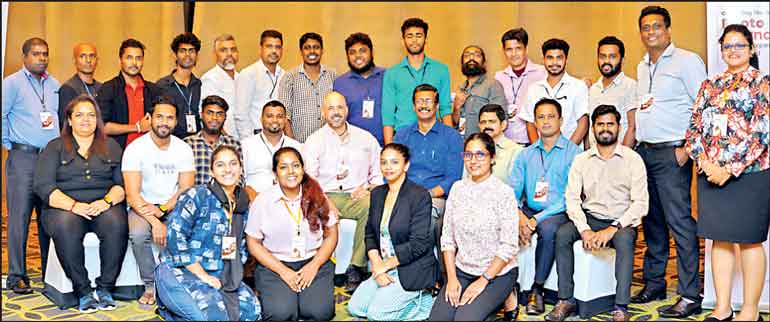 Essdras Suarez (centre-seated) with the group of participants and SLPI team
Two-time Pulitzer Prize-winning photojournalist Essdras M. Suarez, visited Sri Lanka to lead a comprehensive three-day masterclass for journalists from 11 to 13 September.

This workshop was organised by the Sri Lanka Press Institute, in collaboration with the International Centre for Journalists (ICFJ), with valuable support from the United States State Department. The collective goal was to empower and equip local photojournalists with the profound insights and techniques that have earned Suarez worldwide acclaim.

The workshop featured a series of hands-on and technical sessions which provided participants with an exceptional opportunity to tap into the wealth of Suarez's experience and expertise. As a two-time Pulitzer Prize winner, Suarez stands as a maestro in the field of photojournalism with experiences that include covering the political conflict in Haiti and the war in Iraq, as well as conflict in the Gaza. The event thus offered attendees a rare glimpse into the art and ethics of visual storytelling on an international level. The workshop drew a mix of participants, encompassing newsroom journalists from both print and digital media as well as provincial journalists.