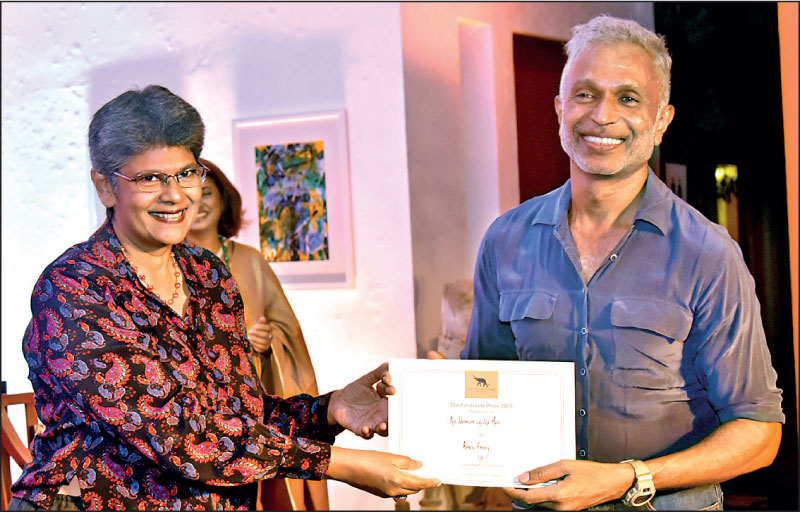 Gratiaen Prize 2021 winner Ashok Ferrey receives the award certificate from Gratiaen Trust Chair Prof. Neloufer de Mel yesterday at the Barefoot Gallery in Colombo – Pic by Ruwan Walpola
---
Ashok Ferrey last night clinched the prestigious Gratiaen Prize 2021 for his novel 'The Unmarriageable Man', published by Penguin, India.

The winner was announced at a hybrid event with a limited in-person audience at the Barefoot Gallery in Colombo. The event was simultaneously live-streamed on the Facebook page of the Gratiaen Trust.

The Gratiaen Prize shortlist for 2021 announced on 23 May were 'A Place called Home' by Uvini Atukorala, an unpublished collection of short stories; 'The Unmarriageable Man' by Ashok Ferrey, a published novel; 'The Lanka Box' by Ciara Mandulee Mendis, an unpublished collection of short stories; and 'Talking to the Sky' by Rizvina Morseth de Alwis, an unpublished novel in manuscript form.

This year the judging panel was chaired by award-winning Sri Lankan-Canadian writer Shyam Selvadurai whose work has been translated and published worldwide. The other members of the jury were University of Peradeniya Department of English Head Dr. Maduranga Kalugampitiya whose research is on contemporary socio-political issues and humanities education, and Keshini Jayawardena, who is an avid reader, an experienced banker and a consultant on leadership, diversity and inclusion.

The panel featured, as usual, three perspectives – that of the creative writer, academic and informed reader.

The Gratiaen Prize is awarded by the Gratiaen Trust, founded by Michael Ondaatje in 1992. Its principal sponsor is John Keells Foundation (JKF), the CSR entity of the John Keells Group. JKF's partnership with the Trust falls within JKF's focus area of arts and culture aimed at nurturing the livelihoods of artists towards safeguarding and promoting Sri Lankan arts and culture under its overall vision of 'Empowering the Nation for Tomorrow'.

The Trust expresses its deep appreciation to John Keells Foundation for its continued support at a time when the arts often become the first victims of an economic downturn. At the same time the Trust is very grateful to the many institutions and individuals who have made its work possible despite the challenging circumstances in the country.

This is the first year since the pandemic that the Gratiaen Prize event was held in-person. Due to the significant challenges facing Sri Lankans today, the Trust decided to scale back the event. Its hybrid format was also to reach readers of literature and supporters of the arts who could not attend the event in-person.