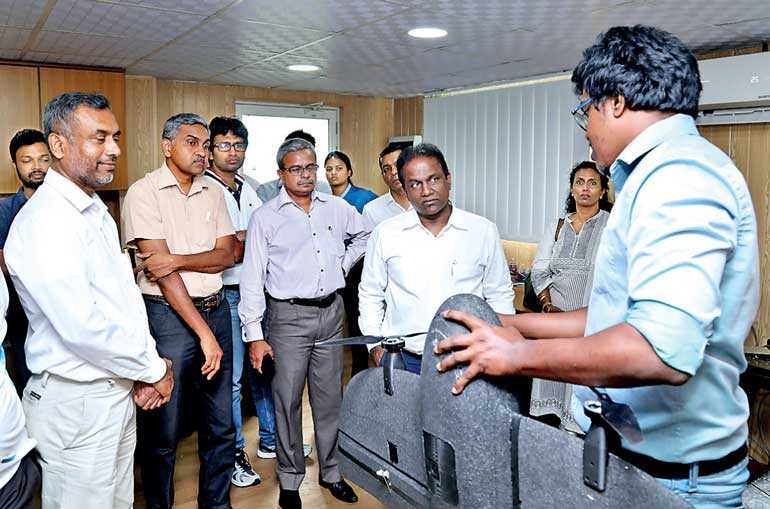 State Minister of Technology and Innovation Thilanga Sumathipala says that Arthur C Clarke Institute for Modern Technologies is ready to take up research leading to novel drone technologies in an attempt to assist in the containment of dengue epidemic. He expressed these views while on a visit to ACCIMT.

"Scientists at ACCIMT have been conducting drone technology related research with much commitment and enthusiasm. Taking this into consideration, we looked into the possibility of making use of this technology in our attempts at containing the dengue menace. Since they have the technical capabilities, they have agreed to contribute to this worthy cause. In order to keep the dengue epidemic under control, aerial observation is of paramount importance, which helps in observing and photographing and even fumigating sites such as schools, Government establishments, spacious buildings, and bare lands, where stagnant water could be found. Discussions will be held with the Ministry of Health and expeditious action will be taken to devise necessary methodologies.

"The Government wants to derive maximum benefits for the country from modern technologies. It is our aim to gain maximum productivity through the employment of modern technologies. The President has given specific instructions to focus on achieving a higher productivity level in the field of agriculture through the employment of modern technologies. The ACCIMT has come up with many novel technologies which could also be employed in the agricultural sector, contributing more towards increasing the Gross Domestic Product of the country. It is essential that more support be given to them in order to ensure the lowering of expenses associated with the agricultural sector while gaining a higher productivity. They have invented a technology where a weight up to 10 kg can be transported using a drone. Successful research experiments have been carried out utilising these technologies in the cultivation of crops such as tea, paddy and rubber. They will continue their attempts at developing these technologies as our own novel technologies."

Secretary to the State Ministry of Technology and Innovation Chinthaka Lokuhetti, ACCIMT Director General Eng. Sanath Panawennage, and research scientists Kavindra Jayawardana and Janaka Addassuriya took part in the proceedings.