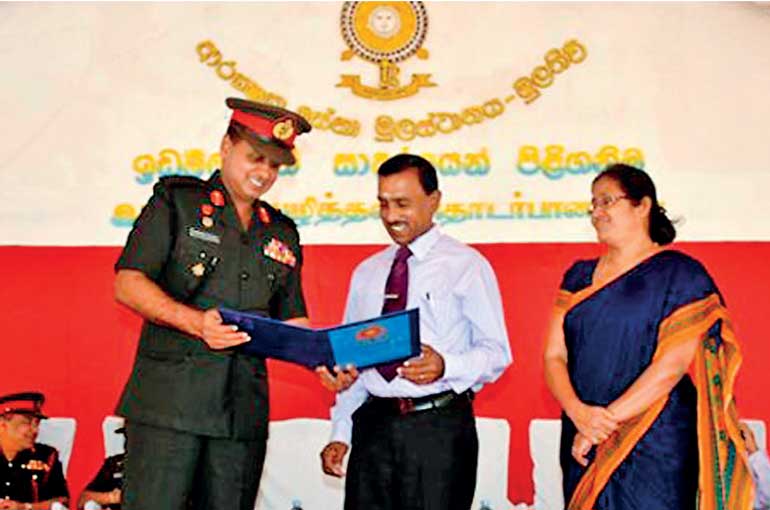 The Sri Lanka Army, in keeping with the new Government's policy to release more security forces-held land to civilians, has released another 133 acres in the Mullaitivu District used by the armed forces for security purposes.

The Army at a ceremony held yesterday released a land area of 133.34 acres in Keppapilavu in the Mullaitivu Maritimepattu Divisional Secretariat, together with 28 newly-built and completely renovated houses and buildings.

Security Forces - Mullaitivu (SF-MLT) Commander Major General Dushyantha Rajaguru symbolically handed over the relevant certificates of land clearance to Additional Secretary to the Ministry of Prison Reforms, Resettlement, Rehabilitation and Hindu Affairs B. Senthilnandan, and District Secretary for Mullaitivu R. Kethishwaran.

At the time the Army acquired the land in Keppapilavu, there were only eight buildings and one foundation in the location which had remained unattended for years. However, the Army, after renovating those buildings and constructing 20 more permanent houses for those landowners with their consent, released the 133.34 acres.

Out of the total of 133.34 acres released yesterday, 111.05 acres in Keppapilavu were released to 68 landowners and the remaining 21.84 acres were given to 17 landowners in Seeniyamottai village to whom the land belonged.

The Sri Lanka Army commenced the gradual release of private property used by the Armed Forces after the conclusion of humanitarian operations in 2009.

As of 1 December 2017, the army has released a total of 55,510.58 acres of private and State land in Jaffna, Kilinochchi, Mullaitivu, Mannar and Vavuniya in the Northern Province, in addition to the 133.34 acres released yesterday in Keppapilavu.