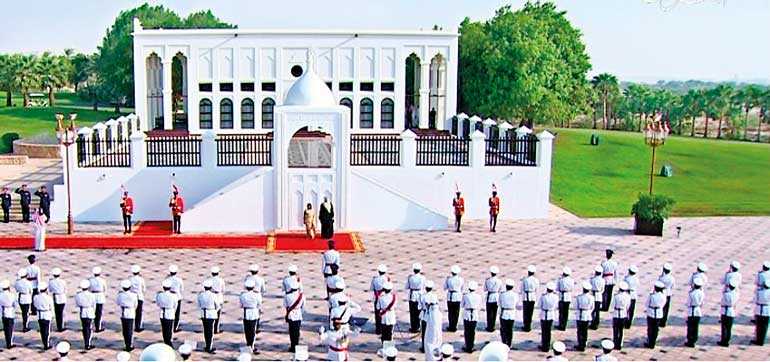 The newly-appointed Ambassador of Sri Lanka to the Kingdom of Bahrain Pradeepa Saram presented Letters of Credence to King Hamad Bin Isa Al-Khalifa, of the Kingdom of Bahrain on Tuesday 27 August at Al-Sakhir Palace, Manama. The ceremony was attended by the Royal Court Minister, the Foreign Minister and the Royal Protocols Chief.
The credentials ceremony included a Guard of Honour and the playing of the National Anthem of Sri Lanka. The Guard of Honour was followed by the presentation of credentials and a courtesy call on the King. While wishing the new Ambassador success in her assignment, King Hamad warmly recalled the cordial bilateral relations and steadily-growing ties binding the Kingdom of Bahrain and Sri Lanka.Ambassador Saram conveyed greetings and appreciation from President Maithripala Sirisena, and spoke of her keenness to further advance bilateral ties and open up new horizons of co-operation in many spheres. She expressed Sri Lanka's deep appreciation to the Kingdom of Bahrain for hosting the approximately 15,000 strong Sri Lankan expatriate community, which is making a significant contribution to the country's economy.

Ambassador Saram joined the Sri Lanka Foreign Service in 1998, and served as the Director General Overseas Assets Management of the Ministry of Foreign Affairs immediately prior to her appointment in Manama.

In her diplomatic career, she was appointed as the first Sri Lankan Consul General in Milan, Italy and held positions in Sri Lanka's Missions in the United Arab Emirates, Germany and the United Kingdom.

Ambassador Saram is a graduate of the University of Colombo and a past pupil of Gothami Balika Vidyalaya, Colombo.