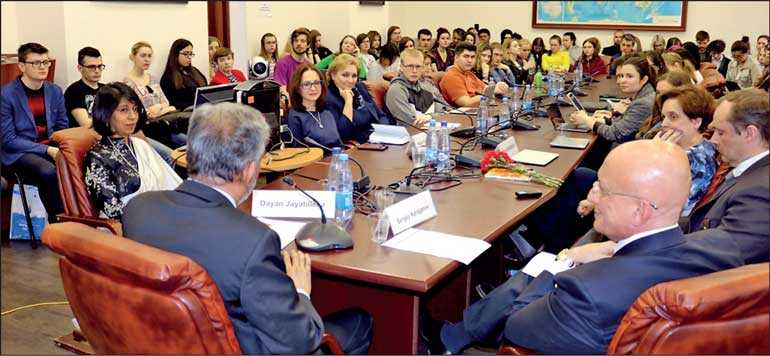 ---
On 22 April, during the tragic days of mourning for the victims of the inhuman acts of terrorism in Sri Lanka, Ambassador Extraordinary and Plenipotentiary of Sri Lanka in the Russian Federation Dr. Dayan Jayatilleka spoke to the students and academic staff of National Research University – Higher School of Economics (HSE). The Ambassador had been invited to deliver the lecture on 22 April by Prof. Sergey A. Karaganov, Dean of HSE Faculty of World Economy and International Relations, one of Russia's reference experts in global affairs, at his first meeting with Ambassador Jayatilleka in February 2019.

On the day following the heartbreaking attacks on peaceful Sri Lankans, Ambassador Jayatilleka deemed it particularly important to address his lecture on terrorism and the lessons of its defeat in Sri Lanka 10 years ago, at this very moment when Sri Lanka and the entire world are challenged again by this rampant evil.

The lecture was preceded by a short meeting with the Dean and members of the academic staff, during which the Russian side expressed their condolences to the people of Sri Lanka on the despicable acts of terrorism against innocent people on Easter Sunday, one of the most important Christian holidays, celebrating Christ's resurrection from the dead, the victory of man over death, and professing Christian hope for resurrection.

In the university's auditorium Dr. Sergey Karaganov read the letter of condolence addressed to Ambassador Jayatilleka, the Government and people of Sri Lanka, expressing the deep shock and outrage at such inhuman acts that could be justified. 'At this moment of mourning, we grieve together and express solidarity to the Sri Lankan people and Government, we convey our deepest condolences to all families and friends of the victims', the letter says. Dean Karaganov announced one minute of silence, and the entire audience stood up to honour the memory of the innocent victims.

Ambassador Jayatilleka thanked Prof. Karaganov and the academic staff of the HSE for the condolences and for the invitation to visit the university, and delivered a lecture on terrorism which coincided with this particularly tragic moment in Sri Lanka's contemporary history. The efforts of the Russian state to counter terrorism both inside the country and beyond its borders are well-known. Back in 2015, President Vladimir Putin in his speech at the United Nations General Assembly called for a truly global approach to form a unified global front against terrorism. The experience of Sri Lanka, which for 30 years had waged a war on terrorism, and the recent terrorist attacks it faced prove the urgent need for such a united global formation to combat terrorism and prevent it.

Speaking from the point of view of political science, it is not easy sometimes to define terrorist movements, because "one person's terrorist is another person's freedom fighter," but categorising movements and defining the characteristics of terrorist/non-terrorist groups is crucial for taking the proper actions to save people's lives.

In his lecture, Dr. Jayatilleka touched upon the following questions deriving from Sri Lankan experience of war against terrorism: Why did this war take place? Why did it take so long, 30 years? Why no peace efforts succeeded during that time? How was Sri Lanka eventually able to win this war against terrorism?

He also spoke on the lessons learned from the 30 years of Sri Lankan experience of war against terrorism. From the point of view of political theory, inaccurate categorisation of movements could lead to more deaths and unending cycles of violence.

Concerning the recent tragic events in Sri Lanka, Dr. Dayan Jayatilleka stressed that we are facing an absolutely new situation with the acts of terrorism, which have absolutely no roots in national causes and conflicts within the country, because there were no tensions, no antagonism between the Muslims and the Christians, that constitute two minorities in Sri Lanka. It is purely an act of 'rabid fanaticism', following a global trend, which has its sources outside the country. There have been no fault lines between Christian and Muslim communities in Sri Lanka before, but now the situation is different.

This new phenomenon is beyond any reason. This is a task for political scientists to analyse and study.

As for the world community, there must be a unified effort to condemn and stop such actions in the future. All political leaders have to rally globally against it, including the former guerrilla leaders. This is what President Putin called for back in 2015.

Prof. Karaganov thanked Dr. Jayatilleka for his profound lecture which he said was 'elegant and brilliant'. Other faculty members who participated included: Prof. Olga Volosyuk, Director of Master's Program in Oriental Studies and Dr. Olga Solodkova, Director of newly-established BA Program in South Asia Studies at HSE Faculty of World Economy and International Relations.

With its 40,000 students and over 700 teaching staff, Russia's Higher School of Economics, one of the most dynamic and multifaceted universities in the country, is welcoming academic knowledge, first-hand political and economic experience in South Asia and generally, in the Indo-Pacific region which has recently become the focus of HSE studies, turning from the older tradition of European studies through those of the Middle East and Russia's closest Far Eastern neighbours, into the study of the greater Asia in the framework of new global multi-polarity. In this context, HSE will host a large conference in November 2019, on Globalisation in South Asia, in which the Faculty has invited Ambassador Jayatilleka to take part.