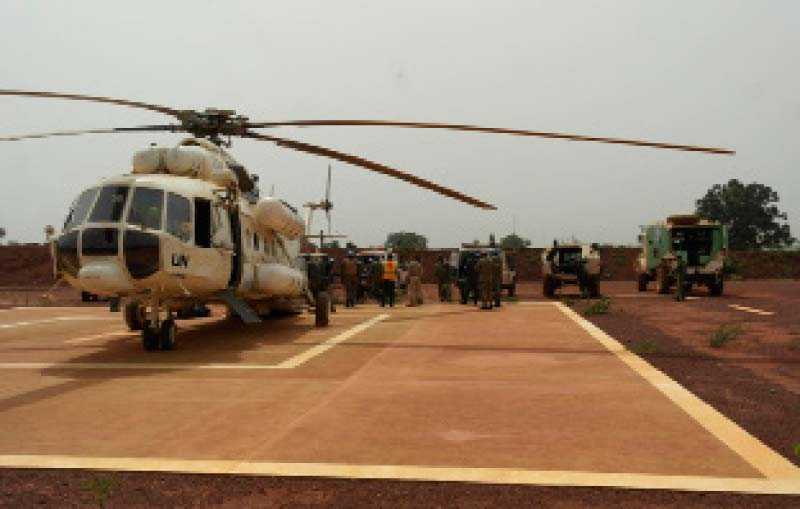 A SLAF Mi-171 helicopter deployed on a peacekeeping mission in Africa
---
By Asiri Fernando
---
The Sri Lanka Air Force (SLAF) yesterday denied allegations that the proposed purchase of four Mi-171 helicopters via a line of credit issued to Sri Lanka by the Russian Government would benefit a corporate third party.

The denial comes as the move to purchase the helicopters drew criticism from Opposition politicians and social media activists on why the Government was purchasing helicopters amidst a pandemic.

Responding to a question, Air Force Spokesman Group Captain Dushan Wijesinghe stressed that the purchase was on a government-to-government basis via a line of credit issued for Sri Lanka to purchase military hardware from Russia and had been negotiated for several years.

He pointed out that the line of credit given by Russia was restricted to purchasing military hardware for the Sri Lankan armed forces and was not available to purchase medical supplies.

The Air Force Spokesman told the Daily FT that the new helicopters were needed to replace aircraft deployed to Africa on United Nations (UN) peacekeeping commitments.

When questioned about how Sri Lanka would repay the line of credit for the aircraft, Group Captain Wijesinghe said that Russia had offered the loan at a low interest rate with a long-term repayment structure. He expressed confidence that Sri Lanka will be able to repay the loan with the earnings received from UN missions.

According to the SLAF, at present the SLAF has deployed six Mi-17 series helicopters to Africa on UN peacekeeping missions, some of which are nearing the end of their service life and will soon require an overhaul.

Group Captain Wijesinghe explained that Sri Lanka needed to uphold the commitments made to UN missions and were duty-bound to provide replacement aircraft for their missions if ones in the line of duty were deemed not airworthy. The SLAF has deployed helicopters and troops for peacekeeping missions in South Sudan and the Central African Republic since 2014. According to Group Captain Wijesinghe, from 2014 to date SLAF peacekeeping missions in Africa have brought earnings worth $ 112 million to the Treasury.