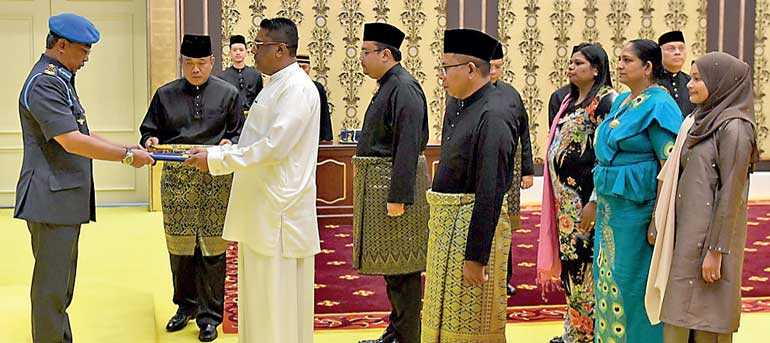 The newly-appointed High Commissioner of Sri Lanka to Malaysia Air Chief Marshal Kapila Veedhiya Bandara Jayampathy presented Letters of Credence to King of Malaysia Yang di-Pertuan Agong XVI Al-Sultan Abdullah Ri'ayatuddin Al-Mustafa Billah Shah Ibni Al-Marhum Sultan Haji Ahmad Shah Al-Musta'in Billah on 3 October, at Istana Negara, Kuala Lumpur.

The ceremony was attended by the Minister of Foreign Affairs and Chief of Protocol of Malaysia. Minister of the Mission H.M. Gedara Reethisri Rakthya Kumari Wijeratne Mendis accompanied the High Commissioner to the Ceremony.

The Credentials ceremony included a Guard of Honour and the playing of the National Anthem of Sri Lanka. The Guard of Honour was followed by the presentation of Credentials and a courtesy call on the King. Madam Anoma Jayampathy accompanied Air Chief Marshal Kapila Veedhiya Bandara Jayampathy to the Audience Ceremony with the King. While wishing the new High Commissioner success in his assignment Yang di-Pertuan Agong XVI warmly recalled the cordial bilateral relations and steadily-growing ties binding Malaysia and Sri Lanka.

Air Chief Marshal Kapila Veedhiya Bandara Jayampathy conveyed greetings and appreciation from the President Maithripala Sirisena, and spoke of his keenness to further advance bilateral ties and open up new horizons of cooperation in many spheres.

Air Chief Marshal Kapila Jayampathy is the 16th Commander of the Sri Lanka Air Force. He also gained diplomatic service experience during his stint as the Defence Advisor to the High Commission of Sri Lanka in Islamabad, Pakistan and played a decisive role in coordinating military activities between Sri Lanka and Pakistan.

He has graduated with Master of Science Degree in International Relations from Preston University Pakistan and he also attended the National Defence University of China in 2008/2009 and followed the National Defence Course, earning the distinction of being the first officer of the Sri Lanka Air Force to be nominated for this prestigious course.

He has graduated from the National Defence University with distinguished colours and fellowship and obtained the Master of Military Science Strategic Studies degree as well. Adding to his academic credentials he became an alumnus of the Harvard University and the National Defence College in United States of America in 2015. He is a past pupil of Nalanda College, Colombo.