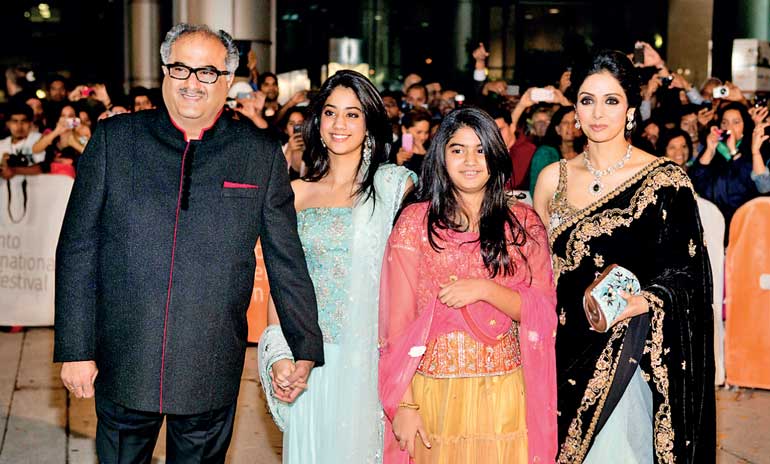 Actress Sridevi Kapoor (R) arrives with her husband Boney (L) and daughters Jhanavi (2nd L) and Khushi (2nd R) for the gala presentation of "English Vinglish" at the 37th Toronto International Film Festival, September 14, 2012/File photo - REUTERS
Reuters: Bollywood actress Sridevi died from drowning in a hotel bathtub, police in Dubai said yesterday.

The actress, who was in Dubai to attend a family wedding, died on 24 February (Saturday night). Initial reports said the 54-year-old died of cardiac arrest. After a post-mortem analysis, Dubai police said the cause of Sridevi's death was that she drowned in the bathtub "following loss of consciousness."

The media office for the Dubai government said on Twitter that the "Dubai Police has transferred the case to Dubai Public Prosecution, which will carry out legal procedures followed in such cases." Dubai daily Gulf News tweeted a photo of a UAE Ministry of Health document that listed the cause of death as accidental drowning. Sridevi was known for her on-screen vivacity and energy, playing memorable characters in films such as "Chaalbaaz" (Trickster) and Shekhar Kapur's "Mr India" in the 80's and 90's. She charmed audiences in female-centric hits at a time when the Indian film industry relied on male actors for box-office success. In 2012, Sridevi made a successful return to the big screen in Gauri Shinde's "English Vinglish", playing a housewife taking English-language lessons. Her last screen appearance was in "Mom" (2017), as a mother avenging her daughter's rape. She was married to Bollywood producer Boney Kapoor and her elder daughter Jhanvi is set to make her Bollywood debut later this year.