Says the party will agree to salaries and benefits of councillors to be cut until the country comes out of the current crisis
Claims people's franchise is more important than salaries and benefits provided to councillors
Warns Govt. to stop playing games with the public as they will respond in kind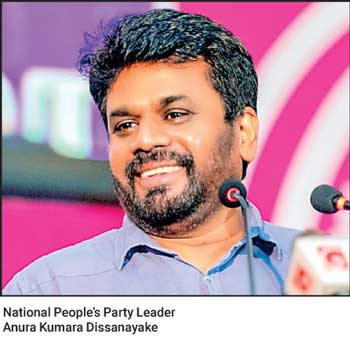 National People's Party Leader Anura Kumara Dissanayake has proposed a 75% cut to the salaries of Local Government councillors if the Government claims it lacks the funds to hold Local Government elections.

Dissanayake taking part in the debate on the Regulation of Election Expenditure Bill on Thursday in the Parliament said his party would agree to slash the salaries of Local Government councillors by 50%.

"Till the crisis is over, halve the salaries of Local Government councillors to reduce costs. If that is not enough, reduce it by 75%. We will agree to it. What is important is that the people be allowed to express their opinion through a vote in a fair and just manner to avert a disaster that may occur if their franchise is taken away," he said.

Dissanayake said if the Government is unable to secure the Rs. 8 billion needed to conduct the Local Government elections, then it must step down. "If they have depleted the funds in the Treasury to the point it cannot afford to hold an election, then the Government must go home," he said.

The NPP Leader asked how such a Government could give the people the necessary food, medicine and other necessities if it cannot find the funds to hold a poll. "This is the exact reason we need an election," Dissanayake said.

The NPP Leader accused those in the Government of stealing public monies and bankrupting the economy. "After all this, they are now claiming there is no money to hold an election. Can a Government that destroyed the economy and has no people's mandate continue to hold on to power?," he asked, likening the current Government to Somali pirates that have hijacked a ship.

The NPP Leader said if not, future governments will also be able to use the same excuse to avoid elections. Dissanayake said the people must be allowed to voice their grievances through a vote.

He warned the Government asking it to stop playing games with the people. "Don't play political games with the people as they will respond to the Government in kind," he said.