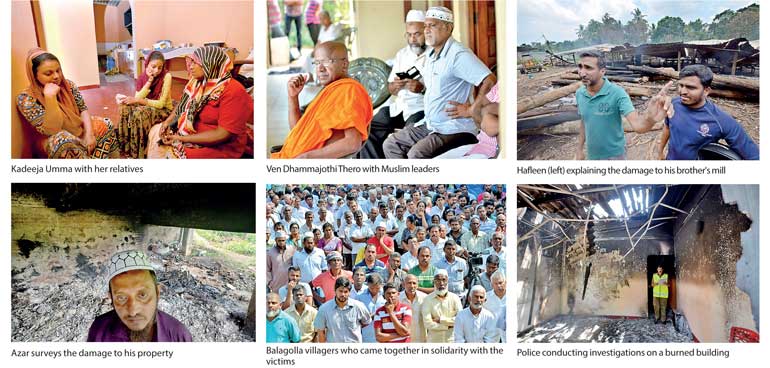 After communal violence swept through their homes, both Sinhalese and Muslims attempt to pick up the pieces and make sense of the chaos
By Chathuri Dissanayake and

Himal Kotalawala in Kandy

Smoke still rises from the charred remains of the pinewood logs at Zilmiya Timber Mills in Mullegama, Ambatenna. The owner's brother, A.M.B. Halfleen, stands on a half-burnt log, surveying the damage. His bloodshot, sleep-deprived eyes take it all in, as he struggles to set aside his anger and assess the gravity of the situation.

Scores of logs have all but turned to embers and much of the machinery has been burnt to the ground. Crestfallen, Hafleen estimates the damage to be around at least Rs. 25 million.

Barely two miles away, A.G.A.R.M. Azar, a father of five, takes stock of what's left of his two-storey house which doubled as a storeroom for his home decor business. Caught in the afternoon breeze, ashes rain from the top floor and the stench of burning rubber engulfs the atmosphere as Azar stands among the debris surrounded by walls covered with soot as black as night. Skeletal remains of a burnt motorbike lie looking forlorn in a pile of debris.

A mere 10-minute ride up a nearby hill, a mother weeps over the body of her 28-year-old son whose blood had been spilled allegedly of his own doing. The young father's life was cut short when a grenade reportedly meant for a neighbourhood mosque went off inches from his abdomen on Wednesday. The back of R.M. Gunaratna Banda's lifeless head is covered in bandage, and his pregnant wife is so overcome with grief she can barely breathe. Her in-laws watch helpless, not knowing what will become of the children Banda leaves behind.

These individuals and their families were all victims of the senseless violence that erupted in parts of Digana, Kandy earlier this week, when racist mobs took to the streets in their hundreds, causing untold suffering to the otherwise peaceful citizens of this quaint little town in the hills.

Echoes of '83

Kadeeja Umma, 50, whose ancestral home in Kengalle, Digana, took some heavy damage on Monday told the Daily FT that the incident was a chilling reminder of a past the country has been trying hard to forget.

"This was an eerie reminder of '83. I was 16 then and it was my family that sheltered the Tamil family from across the road. We lived in fear then. This Monday we were reminded of the fate that had befallen them. We had to run for our lives," she said.

Umma said she and her family had lived in the modest but adequately furnished house for generations. The entire house had been ransacked by the deranged mob and shards of broken glass still litter the floor.

"We are heartbroken by all this hatred," she added, clutching her chest.

Her 35-year-old brother M.A.L. Kareem was more vocal of his frustration and had some choice words about the response from political authorities – particularly Muslim parties.

"They are being controlled by majority politicians. They have no vision. We have no confidence in their leadership," he said.

Kareem was also highly critical of the Government for what he said was its lukewarm response to the violence, a sentiment shared by a number of victims who spoke to this newspaper.

"The Government isn't strong enough," he said, adding that he and his family had voted for the present administration with much hope for the future of minorities.

Padmavithanalage Ismail Abdul Waseem said he was tired of all the provocation.

"My entire family had to evacuate to a friend's place. I haven't slept in days. It's not easy to keep forgiving this sort of violence, over and over – there is a limit to one's patience. We meet five times a day at the mosque where we talk about things at length and strive to keep the peace."

Umma's family was more conciliatory, however. She, her brothers and nephews all acknowledged that there is, indeed, extremism in the Muslim community – as alleged by the ant-Muslim hate groups – but theorised that the social media vitriol directed at their community is part of an organised hate campaign to get the Muslims to retaliate violently so as to justify an all-out attack on the community.

"We urge the authorities to protect the Buddha statues in this area so that we won't be blamed for any sabotage carried out by these unscrupulous elements. We have lived in peace with everyone all these years and we just want to stay that way," she pleaded.

However, the impact of this week's violence was not limited to the Muslim community. W.M.J.J. Udaya of Mullegama, who ran an eatery right next to the Zilmiya timber mill, is now out of work as a result of the chaos.

The eatery was run at a building Udaya had rented from its Muslim owner. When the mobs descended on Wednesday, Udaya said they torched everything owned by Muslim businessmen, evidently forgetting that their fellow Sinhalese would also be affected.

"I was there the morning of the attack but had to come back when the Special Task Force told us to go back home (curfew had already been imposed in Mullegama in the wake of the violence in Digana). I couldn't make out any of the attackers. Some of them wore masks, a few had dyed their hair in a strange fashion. It was a massive crowd," he said.

Deadly rumour

The attackers had appeared after a rumour had spread that the nearby temple, Priyadarshanaramaya, had been attacked by some Muslims. According to Udaya and soldiers standing guard nearby, a few windowpanes had been shattered by stones thrown at the temple by some unidentified individuals.

All hell broke loose and the next thing he knew the whole town was seemingly ablaze.

"I have no way of making a living now. My son who works at the Kandy City Centre is the sole breadwinner at the moment," said Udaya.

It was this alleged attack on the temple which sparked much of the violence in the area – a full two days after the attacks in Digana.

The violence also saw Banda pay the ultimate price when the grenade he was handling fatally detonated before reaching its intended target. His aunt K.A. Muthumenika (67) told the Daily FT that Banda had given no indication of meaning to take part in the attack and insisted that he was a law-abiding citizen and a family man who just wanted to get by with what he had.

"He didn't even drink. He worked at a Muslim-owned shop. I have no idea what happened that day."

However, a drunken neighbour who accosted this newspaper said that they had "no choice but to run to the temple when they heard it was under attack."

He provided no further information. A few miles away in Balagalla, not too far from Digana where much of the violence had taken place, a meeting was held yesterday where community leaders, police officers and religious figures advised the villagers on how to find their bearings and bring back a semblance of normalcy to their lives.

In a heart-warming display of solidarity, scores of Sinhalese and Tamil villagers came together to show support for their Muslim friends and neighbours affected by the mayhem.

Ven. Pathadumbara Thalpotha Dhammajothi, who had organised the meeting together with the local police and Muslim community leaders, said by today steps would be taken to ensure that all Muslims in the area would be able to go to the mosque for Friday prayers with no fear of harm for life or property.

"I too will come with you to the mosque," he told the villagers.

Balamulla West Community Service Centre's Chairman and Justice of the Peace Anuradha Baminiwaththa and other Sinhalese villagers told Daily FT that they were shocked and dismayed by the violence.

"All communities have lived here peacefully. At no point in our history has there been an incident of this nature. We never imagined something like this would happen here. It came out of nowhere. We're deeply saddened by what happened," he said.

A running theme among nearly all comments given to this newspaper in the course of the day from both Sinhalese and Muslim representatives was that a majority of the attackers were outsiders with "some inside help from a handful of bad eggs" who had told the mobs where to go.

"I'm convinced that no one in our village would've done this, it was all outsiders. There are no divisions here. As a Sinhalese, I'm ashamed that this happened at all and I hope there won't ever be a repeat," said Baminiwaththa.

In a calm yet determinedly stern speech, Pallekale Police Officer-in-Charge Prabhath Jayasekara told the villagers that the police were well aware of who was to blame.

"We know who the perpetrators are; we know who attacked the seven houses in Gammudawa (some houses were attacked in the nearby Gammudawa village the previous night). They came on motorbikes. We're looking for them and we will arrest them."

Jayasekera vowed to take action against those responsible and put an end to the prevailing sense of anarchy once and for all.

Enough is enough, he seemed to say.
-Pix by Shehan Gunasekera
Appeal for help for displaced villages
Villagers affected by the racially-motivated mob violence in Digana, Kandy this week are facing a food shortage, even as community leaders from all ethnic groups come together to collect dry rations for the victims.

At a community meeting held in Balagalla yesterday, Buddhist and Muslim religious figures called on the villagers to make any contributions within their means to the families affected by the violence that engulfed the area.

Raising the issue at the meeting, community member Dhammika Amarasinghe appealed to Ven. Thalpotha Dhammajothi Thero, the Chief Incumbent of the Balagolla Viharaya, to introduce a system where the villagers could contribute rations for and provide assistance to displaced Muslims who have temporarily moved to other areas.

The thero agreed with the suggestion and called for a meeting to be held with the dayaka sabha (temple donors) also attended by Islamic representatives.