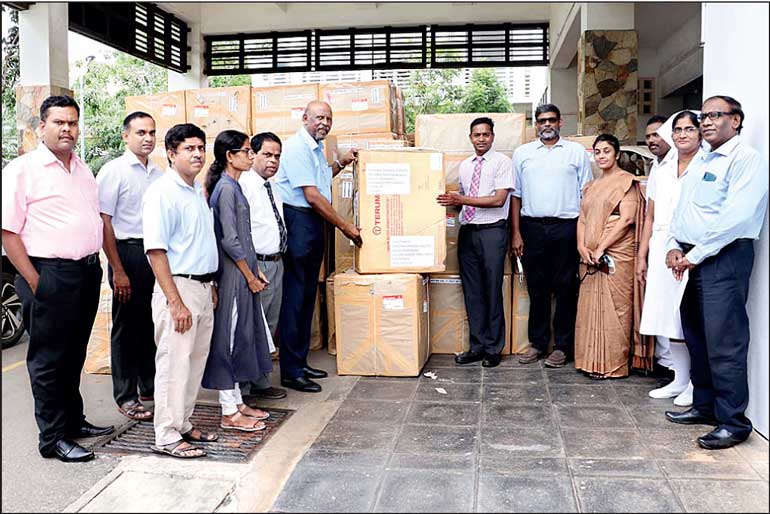 Dr. Ambalavanar (left) handing over the CMC donation to the Teaching Hospital Jaffna Director in the presence of other staff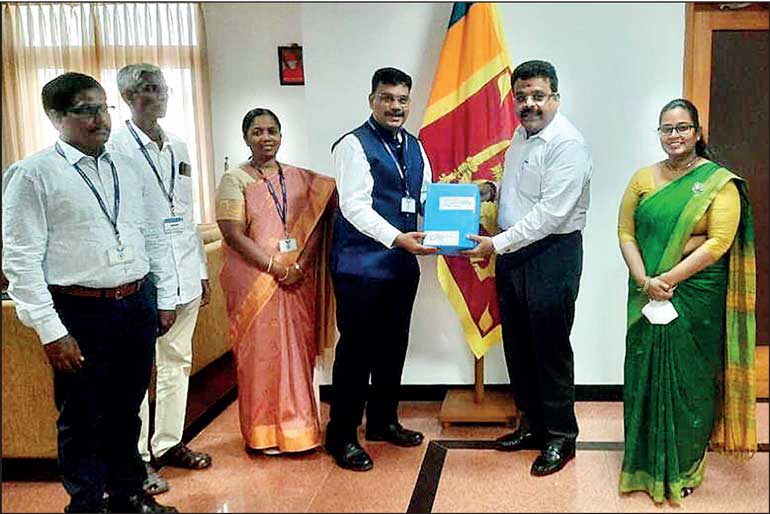 The CMC team handing over the donation to the Sri Lankan Deputy High Commissioner in Chennai
---
Helping hands are better than praying lips-Mother Teresa
The unprecedented crisis in Sri Lanka has seen all sections of society being badly affected. The healthcare sector was no exception with hospitals facing numerous problems due to shortages of medicines, supplies and fuel. For several weeks hospitals were forced to carry out only emergency surgery due to shortages of anaesthetic drugs and consumables. Even though there has been some improvement there are still serious shortages of many items which makes it difficult for the healthcare system to provide a satisfactory service to patients.

This is compounded by the difficulty that importers of medicines and medical consumables face due to the Forex crisis making it hard to even buy supplies in the private sector.

The country has been fortunate that many governments, organisations and individuals have come forward to help the country and its people at this time of need. Donations of money and supplies have been coming in to try and ease the plight of our people and this help has been invaluable.

The Teaching Hospital Jaffna has been a beneficiary of such help during the past few months. The latest such assistance to the hospital has come from the Christian Medical College in Vellore, Tamil Nadu. CMC is an internationally renowned medical college and hospital that has served all sections of Indian society very successfully for many years. Sri Lankans too have benefited from the high-quality care that they provide.

CMC reaches out a helping hand

CMC has long standing links to Jaffna and Sri Lanka. Dr. John Scudder, the first western medical missionary, came from New England in the United States to Jaffna in 1819 to set up a medical clinic in Pandatherippu in the Jaffna district. He was the very first to provide western medical treatments to the general public anywhere in the island. Following many years of dedicated service to the people of Jaffna he was sent by the American Mission board to work in the North Arcot District of Tamil Nadu. It was his granddaughter, Dr. Ida Scudder, who founded Christian Medical College and hospital!

Many doctors from this country have been trained in CMC both at undergraduate and postgraduate levels. In fact at the moment there are five young consultants from Sri Lanka doing their overseas training there. Over the years CMC has also helped with training and exposure for other staff including medical officers, nurses and cancer unit staff.

When CMC Director Dr. J.V. Peter was contacted regarding the possibility of helping Teaching Hospital, Jaffna he responded very positively and put together a team to organise this. It is the very first time that CMC has undertaken such a humanitarian exercise outside of India.

The consignment that has just arrived in Jaffna consists of around seventy-four different items including badly needed medicines and consumables. The total value of the consignment is estimated to be around Rs. 7.5 million. The Sri Lankan Deputy High Commission in Chennai and Sri Lankan Airlines facilitated the sending of the shipment to the Ministry of Health here in Colombo.

On behalf of CMC, the consignment was handed over to Teaching Hospital Jaffna Director Dr. Sathiyamoorthy by Dr. Thayalan Ambalavanar, surgeon and himself an alumnus of CMC.

This generous assistance from CMC comes at a crucial time and helps further strengthen the bonds that already exist between CMC and this part of the world. It is hoped that there will be more ways in which CMC can help and collaborate with the region in the future. This helping hand is something that the local community will always gratefully remember.