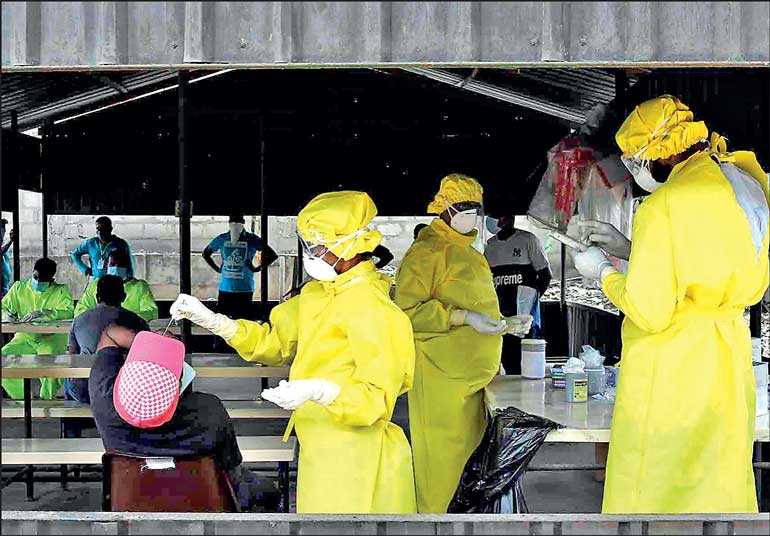 ---
Triple COVID-19 clusters exceed 56,000 patients
Over 8,500 COVID-19 patients currently under medical care
38,405 persons test positive from Western Province
Testing to be carried out from tomorrow to Sunday at 11 exit points from WP
---
By Shailendree Wickrama Adittiya
---
The total number of COVID-19 patients detected from the Divulapitiya, Peliyagoda, and Prisons clusters exceeded to 56,000 with the detection of 755 patients.

According to the Department of Government Information, 56,036 COVID-19 patients have been detected from the Divulapitiya, Peliyagoda, and Prisons clusters that first emerged on 4 October. Of yesterday's patients, 741 were associates of the Peliyagoda COVID-19 cluster, seven were from the prisons cluster, and seven were overseas arrivals.

In addition to the clusters, 1,815 Sri Lankan returnees from abroad, 950 Navy personnel and their contacts, 651 persons linked to the Kandakadu cluster, and 150 foreigners are also among the total patient count.

The Epidemiology Unit states that 59,922 COVID-19 patients have been detected in the island to date, of which 8,588 are currently under medical care. This includes 636 persons at the Punani Treatment Centre, 525 persons at the Bingiriya Treatment Centre, 469 persons at the Neville Fernando Teaching Hospital, and 416 persons at the Galella Treatment Centre. Hospitals are also monitoring 863 persons suspected of having COVID-19.

The Epidemiology Unit adds that 51,046 persons have recovered from COVID-19 to date. Among the recoveries are 63 persons from the Punani Treatment Centre, 42 persons from the Rambukkana Treatment Centre, and 38 persons from the Giriulla Treatment Centre discharged yesterday.

In terms of the district distribution of COVID-19 patients, the Epidemiology Unit states that 22,300 persons from Colombo, 12,160 persons from Gampaha, 3,945 persons from Kalutara, 2,321 persons from Kandy, and 1,219 persons from Galle have tested positive for COVID-19 to date.

This includes the 737 COVID-19 patients detected on Monday, of which 227 are from Colombo District, 102 are from Kalutara District, 96 are from Gampaha District, 68 are from Galle District, and 59 are from Kurunegala District.

In addition to this, the Health Promotion Bureau states that 1,625,046 PCR tests have been carried out to date, including 16,431 tests on Monday.

Police Spokesperson DIG Ajith Rohana yesterday said all persons exiting the Western Province between tomorrow and Sunday will be subjected to rapid antigen testing.

Testing will be carried out at 11 points.

"In the past few days, around 1,000 drivers, conductors and assistances of public transport and school transport bus services were subjected to rapid antigen tests in the Western Province.

Three of them were COVID-19 positive," he added.

Meanwhile, the National Operations Centre for the Prevention of the COVID-19 Outbreak (NOCPCO) yesterday announced that several Grama Niladhari Divisions in the Bandaragama Divisional Secretariat Division and the Moragala Grama Niladhari Division in the Eheliyagoda Divisional Secretariat Division were released from isolation at 5 a.m. today.

---
---