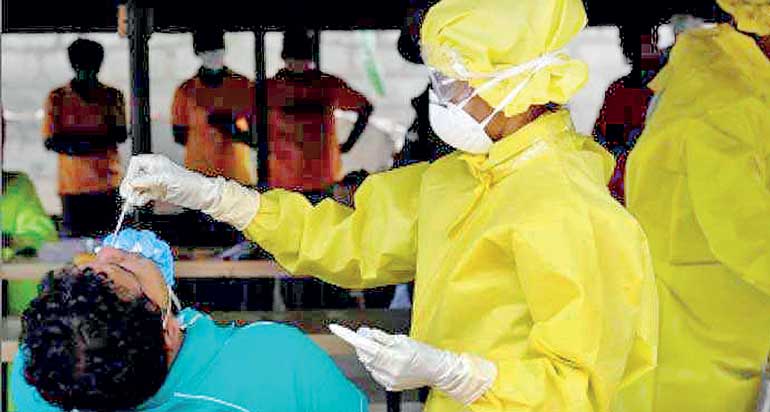 3,640 cases reported in last five 5 days added to total count
COVID-19 data discrepancies being fixed: Health Promotion Bureau
Change in post unexpected: Former Health Minister Pavithra Wanniarachchi
34% increase in detections, 60% increase in deaths since previous week: SLMA
---
By Shailendree Wickrama Adittiya
---
Sri Lanka's COVID-19 detections rose to 362,074 with 3,466 persons testing positive for COVID-19 yesterday and over 3,000 delayed cases being added to the total patient count.

The Epidemiology Unit yesterday added 3,640 cases reported in the last five days to the total patient count.

According to Health Promotion Bureau Director Dr. Ranjith Batuwanthudawa, steps are being taken to fix any inaccuracies in COVID-19 data.

"Data is not being hidden and this is being closely studied at the moment. The Health Ministry is working hard to right this wrong," he said.

The Health Promotion Bureau Director added that PCR testing numbers had not been reported properly for the past two days either.

The Bureau's website shows daily investigation numbers until 13 August only.

Dr. Batuwanthudawa added that all first contacts of COVID-19 patients should quarantine for 14 days and get tested at the end of the quarantine period.

Amidst discrepancies in Health Ministry COVID-19 data being revealed and the worsening COVID-19 situation in the country, President Gotabaya Rajapaksa yesterday removed Pavithra Wanniarachchi from the post of Health Minister and appointed former Mass Media Minister Keheliya Rambukwella as Health Minister.

Wanniarachchi, who is now Transport Minister, held her post at the Health Ministry for close to two years. While thanking Health Ministry staff, Wanniarachchi said the change in position was sudden and that she was unaware of any changes being made to the Health Ministry.

Before leaving the Ministry premises, Wanniarachchi congratulated Rambukwella, who assumed duties yesterday.

In terms of COVID-19 detections, 3,414 persons from the New Year cluster and 52 overseas arrivals tested positive yesterday.

The Epidemiology Unit states that the country's COVID-19 detections include 255,960 persons from the New Year cluster, 82,785 persons from the Peliyagoda cluster, 7,969 persons from the Prisons cluster and 3,059 persons from the Divulapitiya cluster.

Sri Lanka's imported cases consist of 6,593 Sri Lankan overseas arrivals and 328 foreigners.

This includes the 3,435 COVID-19 patients detected on Sunday, of which 3,431 were from the New Year cluster and four were from the Prisons cluster.

The district distribution of COVID-19 patients shows 82,644 persons from Colombo, 65,228 persons from Gampaha, 38,607 persons from Kalutara, 17,540 persons from Galle, and 17,253 persons from Kurunegala.

During the third wave of the pandemic, 50,347 persons from Colombo, 46,694 persons from Gampaha, and 31,549 persons from Kalutara tested positive for COVID-19.

According to Sri Lanka Medical Association (SLMA) President Dr. Padma Gunaratne, a 34% increase in COVID-19 detections and a 60% increase in deaths can be seen since last week.

"At this point we can clearly say that the disease has spread in the community. With community spread, an increase in patients, serious illness, and deaths can be seen. What was at first a 0.5% mortality rate is now 4% or 5%," Dr. Gunaratne said.

She drew attention to the strain the increase in detections as well as COVID-19 spread among health workers has on the health system and urged the public to remain at home as much as possible.

The SLMA President added that when it was necessary to leave the house, it should ideally be someone below the age of 50 who does not have any chronic illness and is fully vaccinated.

Meanwhile, Sri Lanka's active patient count yesterday exceeded 40,000.

At present, 43,921 persons are under medical and home-based care and hospitals are observing 3,406 persons suspected of having COVID-19.

The Epidemiology Unit adds that 2,325 persons left hospitals yesterday, raising the country's COVID-19 recoveries to 312,057.