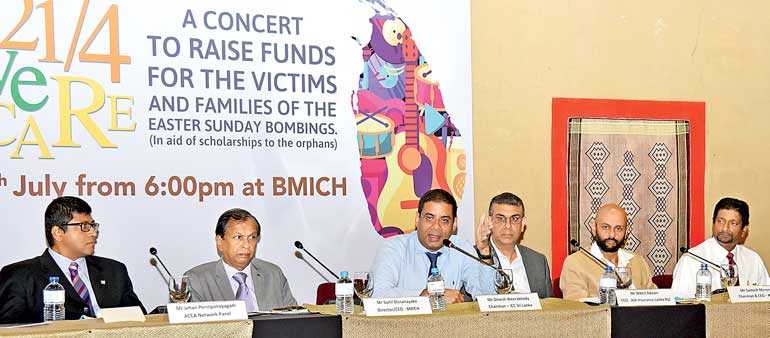 International Chamber of Commerce Sri Lanka Chairman Dinesh Weerakkody
---
International Chamber of Commerce Sri Lanka Chairman Dinesh Weerakkody, of the domestic chapter of ICC Paris and organisers of the '21/4 We Care' Tribute Concert, outlines its objectives. ICC Paris has a global reach of over six million member companies, chambers of commerce and business associations in over 130 countries. Excerpts of the interview below.
Q: When and how did you come up with the idea for this '21/4 We Care' charity concert?

The '21/4 We Care' Tribute Concert is a music-based fundraising initiative to provide scholarships for orphans. The private sector is often criticised for being self-obsessed and self-interested, therefore we believe we cannot be a bystander in the system that gives you life in the first place. I know we all have our jobs, but that has to come from a deeper sense of purpose.


Q: As a business chamber do you pursue CSR?

Yes. We are not going to try to solve all the issues that are out there but we like to stay focused on the things that businesses can do, who we ultimately represent and make the biggest impact. We all need to be way beyond CSR, and yet we still talk about it as CSR, which is basically activity-driven but not holistic. The concept of shared value is good but I think it is a post-rationalisation of not getting in trouble with society. We cannot expect the Government to do everything. Companies too have to provide solutions to some of the critical challenges facing the country and be co-responsible and that's a higher level than that we have talked until now. Unfortunately still not many see it as being absolutely crucial for their own survival.


Q: Who will be performing at this event?

We have 21 artists performing. They will all perform free for the concert. The artists include Alston Koch, Sohan Weerasinghe, Bathiya and Santhush, Kishani Jayasinghe, Stephanie Siriwardena, Dushyanth Weeraman, Sohan Weerasinghe, the Lanerolle Brothers, Raini Gunathilake, Rukantha and Chandraleka Gunathilake, Voice Print, Billy Fernando, Randhir Witana, Lahiru Perera, Dumi Fernando, Madhavi Senarathna, Raini Gunathilaka and Old Joes Choir.


Q: Can you tell us about the aims of this event?

The hope is uplifting a nation after a disaster. Concrete objectives include raising funds. This is a type of musical performance featuring top musicians for a charitable purpose. We hope to provide scholarships for 20 children who lost either their parents or a breadwinner. The proceeds will all go to the 20 children identified by us. In addition to ticket sales, the public could make donations using their credit cards on the day of the event. The account of the event will be audited by KPMG and will managed by a bank. Also, the publicity generated by the concert will also help the orphans.


Q: Is it heartening to see so many organisations coming together to organise this concert?

Yes. This is jointly organised by ICCSL together with ACCA, DailyFT, SLITHM, and BMICH, partnered by HNB, Mobitel, Hameedia, Cinnamon life. AIA Insurance, European Chamber and Colombo MBA Alumni Association will join as promotional partners for the event. Derana TV will be the electronic media partner. SriLankan Airlines is helping us fly down some of the artists. As a Chamber we recognise the power of partnerships, which comes from all partners buying into that sense of purpose. Our collaboration with the many partners represented here today is vital to bringing business together with government and civil society to co-create the solutions to our common problems. However small, I believe personal contributions collectively make a big difference to society.


Q: What is the current status of the event?

The response has been overwhelming. We are confident that this event will be a successful fundraising event, given that the ultimate beneficiaries will be innocent children affected by the Easter Sunday tragedy. Businesses cannot expect the Government to do everything. Therefore every one of us can make a difference, but it requires the will.