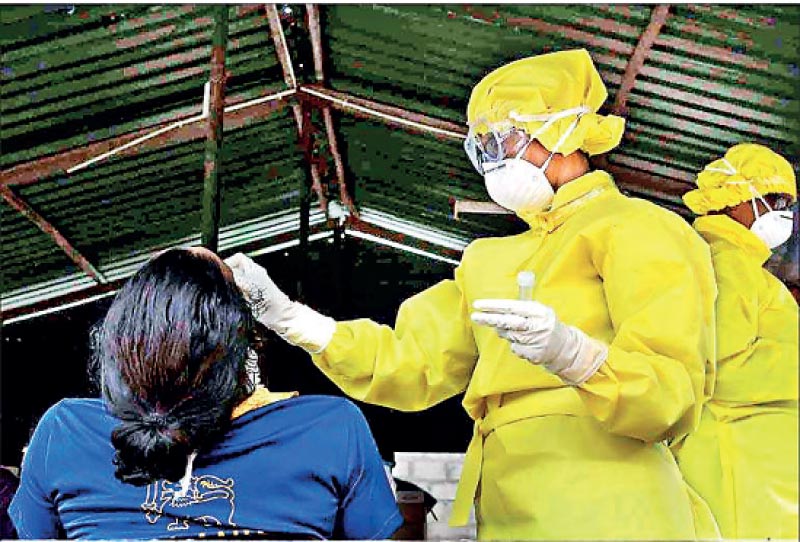 ---
Total patient count rises to 213,396, includes 111,550 from New Year cluster
18,903 PCR tests performed yesterday; testing remains below 25,000 daily since 21 May
31,126 persons under medical care, recoveries rise to 180,427
28% increase in fatalities, no drop in daily detections yet: Dr. Fernandopulle
---
By Shailendree Wickrama Adittiya
---
The country's COVID-19 patient count rose to 213,396 with the detection of 2,735 COVID-19 positive persons yesterday.

Daily COVID-19 detections have remained above 2,000, with PCR testing remaining below 25,000 a day since 21 May. According to the Health Promotion Bureau, only 18,903 PCR tests were performed yesterday.

Among the persons who tested positive yesterday were 2,716 patients linked to the New Year cluster. The cumulative patient count of the Divulapitiya, Peliyagoda, Prisons and New Year clusters is now 206,617.

Of the four clusters, the New Year cluster, which emerged after the Sinhala and Tamil New Year in April, is the most recent and the largest. At 10 a.m. yesterday, the cluster had a patient count of 111,550; the Peliyagoda cluster had 82,785 patients, the Prisons cluster had 6,507 patients and the Divulapitiya cluster had 3,059 patients.

The local cases also include 950 Navy personnel and their contacts, and 651 persons linked to the Kandakadu cluster. The Epidemiology Unit states that 4,528 Sri Lankan returnees from abroad and 318 foreigners make up the country's imported cases.

This takes into account the 2,682 persons who tested positive for COVID-19 on Tuesday, of which 2,573 are from the New Year cluster, 64 from the Prisons cluster, and 45 are Sri Lankan returnees from abroad.

Of Tuesday's patients, 602 were from Colombo, 434 were from Gampaha, 270 were from Kurunegala, 222 were from Batticaloa, and 119 were from Nuwara Eliya.

The district distribution of COVID-19 patients detected to date shows 53,088 persons from Colombo, 36,004 persons from Gampaha, 22,815 persons from Kalutara, 11,272 persons from Kandy, and 10,704 persons from Kurunegala.

At present, 31,126 persons are under medical care and 1,390 persons suspected of having COVID-19 are under observation at various treatment centres.

Hospitals discharged 2,168 persons yesterday and the country's COVID-19 recoveries have risen to 180,427.

Meanwhile, Primary Health Care, Epidemics and COVID Disease Control State Minister Dr. Sudarshini Fernandopulle yesterday said the decision to extend travel restrictions beyond 14 June is one the Government will take having studied relevant data closer to the date.

However, she said the impact of travel restrictions will not yet be seen in the form of reduced COVID-19 detections and fatalities, as the virus has an incubation period of up to 14 days.

"Compared to last week, a slight increase in the number of daily detections as well as a 28% increase in fatalities has been seen. It has not yet started decreasing," Dr. Fernandopulle said.