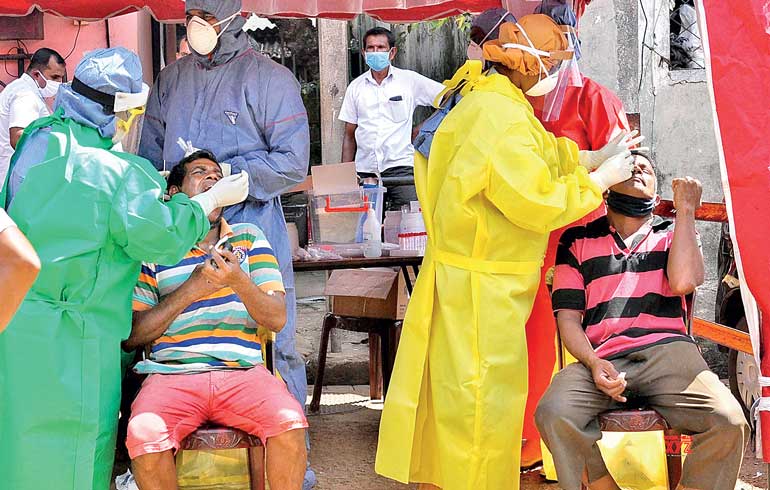 Total patient count rises to 488,482, includes 382,615 persons from New Year cluster
PCR testing drops below 10,000, with only 9,712 PCR tests carried out on Monday
Western Province detections rise to 242,459, includes 184,570 detections during third wave
62,756 persons currently under medical and home-based care
By Shailendree Wickrama Adittiya

COVID-19 detections in Sri Lanka rose to 488,482 with 2,560 persons testing positive for COVID-19 yesterday.

The patients detected yesterday were from the New Year cluster and 9,712 PCR tests were carried out yesterday.

The Health Promotion Bureau states that 12,285 PCR tests and 3,218 rapid antigen tests were carried out on Sunday.

Sunday's COVID-19 detections include 2,614 persons from the New Year cluster, 27 persons from the Prisons cluster and one Sri Lankan overseas arrival.

A total of 382,615 patients have been detected from the New Year cluster and Sri Lanka's local cases also include 82,785 persons from the Peliyagoda cluster, 8,346 persons from the Peliyagoda cluster, and 3,059 persons from the Divulapitiya cluster.

In addition to this, 6,875 Sri Lankan overseas arrivals and 328 foreigners have also tested positive for COVID-19.

The district distribution of the country's total COVID-19 detections records 106,046 persons from Colombo, 88,042 persons from Gampaha, 48,371 persons from Kalutara, 27,348 persons from Galle, and 23,430 persons from Kurunegala.

Western Province detections during the third wave include 73,749 persons from Colombo, 69,508 persons from Gampaha, and 41,313 persons from Kalutara.

At present, 62,756 persons are under medical or home-based care and 2,538 persons suspected of having COVID-19 are under observation.

The Epidemiology Unit states that 1,483 persons left hospitals yesterday, raising the country's COVID-19 recoveries to 414,295.

While a drop in daily COVID-19 detections can be seen since the beginning of the month, Deputy Director of Health Services Dr. Hemantha Herath said this was insufficient to reopen the country.

"I would not call this a green light, but we are moving towards the green light. However, we cannot be 100% satisfied with this yet," Dr. Hemantha Herath said.